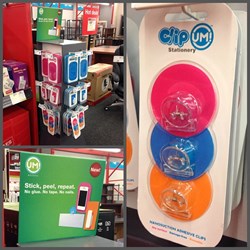 Chino, CA (PRWEB) November 13, 2013
Don't miss this opportunity to discover a new way to organize an office space. UM! Brands and Staples have come together and launched store-exclusive products in select locations.
Wait – what IS UM! Brands?
Launched in 2011, UM! Brands is the original maker of the revolutionary adhesive, better known as EverSTIK™ nano-suction. In its simplest terms, nano-suction harnesses the power of millions of miniature suction cups on its surface, making it tremendously strong, reusable, and damage-free. UM! Brands applies this adhesive to the backing of all its product lines, introducing a new (and fun!) way to organize. No longer will one need to drill holes or scrape sticky tape off the walls! Learn more about the tech behind EverSTIK™ here: http://www.um-brands.com/how-it-works/.
Get to know the products:
Three of UM! Brands' product lines are available at Staples: Hook UM! Rocket, Clip UM! Stationery 3-pack, and Stick UM! Available in neon colors of blue, pink, and orange, they immediately brighten up any dull space.
The Hook UM! Rocket is a narrow, rectangular hook. Don't let the size of this hook fool you! Use it to hold a set of keys, or even a backpack! It has been tested to hold up to a whopping 10 pounds of weight when used on a smooth surface.
The Clip UM! Stationary 3-pack comes with three circular clips, perfect for holding papers to keep any area tidy. Each pack comes with a neon blue, neon orange, and neon pink clip.
The Stick UM! is a double-sided, all-purpose sticky pad. With EverSTIK™ nano-suction material on both sides, the Stick UM! allows for creative organization. It can hold up any flat-surfaced object weighing up to 1 pound, making it perfect for MP3 players, remote controls, and especially, cell phones!
With its versatility, usefulness, and eye-catching colors, these products will keep any space – from the office to the kitchen - cool and organized.
To find a Staples location with UM! Brands products near to you, check at http://www.um-brands.com/store-locator/.