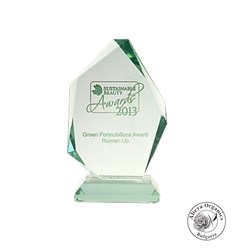 Paris, France (PRWEB) November 06, 2013
On October 21 2013, Alteya Organics received the prestigious Green Formulations Runner-up Award at the 2013 Sustainability Beauty Awards, held during the Sustainable Cosmetics Summit in Paris, France. The acknowledgment is given to a cosmetic brand with a high level of green (natural and organic) ingredients in product formulations. This esteemed award is also a recognition to those who are pushing the boundaries of sustainability in the beauty industry. Alteya Organics, selected from more than 100 nominated candidates representing industry leaders from each continent, was given the award because of its commitment to 100% organic production, use of fully traceable home-grown sustainable ingredients, and socially responsible agriculture and manufacturing practices with minimal environmental impacts.
The inaugural award ceremony is an initiative of the UK-based Organic Monitor, a research organization specializing in the global organic industry. According to its president, Amarjit Sahota, the Sustainable Beauty Awards send a clear sign to the cosmetics industry: "Following the Sustainable Cosmetic Summit, this premiere award signifies that it is no longer only about theory, it is about putting sustainability into practice." Over 160 executives of (organic) cosmetic companies attended the awards reception, hosted at the Paris Marriott Champs Elysées hotel last month.
"The team of Alteya Organics is thrilled and honoured to be recognized for our sustainability efforts," said managing partner Daniel Kolev after the ceremony: "Being one of the few fully organic skin care companies in the world, we look at our skin care as food for the skin and all of our formulations are based only on certified organic ingredients. We also continuously look for ways to give back to our planet so the concept of sustainability is engrained in everything we do. We have eliminated the use of heavy equipment and fertilizers from all of our agriculture processes and soil treatments, from the planting of the rose seeds, to rose picking at harvesting, to distillation and rose oil extraction, all our processes are manual to ensure utmost care of our plants and land, as well as the purest ingredients for our customers."
---
Alteya Organics, a multiple award-winning beauty company, with its own certified organic rose farms in the heart of the Bulgarian Rose Valley, grows the organic Rosa damascena, distils essential rose oil (rose otto) and rose water, and creates organic skin care all according to world's most strict, the USDA NOP organic government standard. Key company products include the award-winning therapeutic-grade Organic Bulgarian Rose Waters, Organic Rose Face Washes, Organic Face Serums with Bulgarian Rose Oil, and Organic Rose Face Toners.