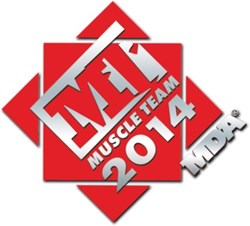 NEW YORK, (PRWEB) November 06, 2013
Metro New York's top pro athletes will join together to put their muscle behind finding treatments and cures for muscle disease at a special kickoff event for the 17th annual New York Muscle Team® Gala on Tuesday, Nov. 19, at 6 p.m. to benefit the Muscular Dystrophy Association.
The kickoff event will take place at The Lighthouse at Chelsea Piers, Pier 61 (Hudson River and 23rd Street). Each member of the 2014 Muscle Team will be introduced and paired with their "MDA Buddy" — a child from the Metro New York area who is affected by muscular dystrophy or a related disease — for the 2014 Muscle Team Gala that is scheduled for Jan. 7, 2014.
"This event is the official kickoff to our Muscle Team season. It's a fun reception that allows us to introduce Muscle Team members to the kids that they are helping support," said MDA Divisional Director Kaylan Moitoso. "The relationships made between the participating athletes and the 'MDA Buddies' often last long after the Muscle Team Gala, which is a true testament to the compassion and dedication they have in the fight against muscle disease. The kickoff also provides the opportunity for our generous sponsors to meet the team in an intimate setting. We are very thankful for everyone's support."
Among the athletes set to attend are:

New York Giants offensive lineman Chris Snee; cornerback Prince Amukamara; cornerback Terrell Thomas; wide receiver Jerrel Jernigan; punter Steve Weatherford; safety Antrel Rolle; offensive lineman Kevin Boothe; linebacker Mathias Kiwanuka; and running back Michael Cox
New York Jets defensive end Quinton Coples and punter Ryan Quigley; and
New York Red Bulls midfielder Eric Alexander.
FOX5/My 9 News sports anchor Russ Salzberg, an MDA supporter of more than 24 years, will serve as emcee for the evening.
Since 1996, the New York Muscle Team Gala has raised more than $16 million to support MDA research and services. The 2014 event is expected to raise more than $1 million for children and adults affected by muscle disease.
Funds raised at the Gala will directly benefit MDA families in the Metro New York area, and the Association's programs of research and clinic services at Columbia University, Hospital for Special Surgery, NYU Langone Medical center, plus a free weeklong summer camp in Long Island, N.Y.
About the 2014 Muscle Team Gala
The 2014 MDA Muscle Team Gala is a unique, high-profile reception and fundraiser that provides guests with the opportunity to meet New York pro athletes who have chosen to put their muscle behind MDA.
The evening consists of a VIP and media reception, pre-dinner cocktails and a gourmet sit-down dinner at Chelsea Piers' distinctive NYC waterfront setting Pier 60. The event is highlighted by live and silent auctions consisting of one-of-a-kind fantasy packages, unique sports memorabilia, theater and concert tickets, exclusive trips, and a chance to create a lifetime of memories by sending a child to MDA summer camp, also known as the "best week of the year" for many kids affected by muscle disease.
For tickets to the 2014 Muscle Team Gala, or for more information about MDA's services, call MDA Associate Director of Business Development Caity Connolly at (212) 682-5272 or visit nymuscleteam.org.
For up-to-date information about the 17th annual Muscle Team Gala, follow us on Facebook (facebook.com/ManhattanMDA) and Twitter (@MDAManhattan).
About MDA
The Muscular Dystrophy Association is the world's leading nonprofit health agency dedicated to finding treatments and cures for muscular dystrophy, amyotrophic lateral sclerosis (ALS) and other neuromuscular diseases. It does so by funding worldwide research; by providing comprehensive health care services and support to MDA families nationwide; and by rallying communities to fight back through advocacy, fundraising and local engagement. Visit mda.org and follow us at facebook.com/MDAnational and @MDAnews.