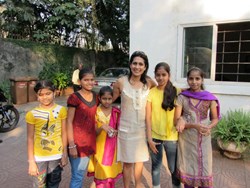 (PRWEB) November 06, 2013
WHAT:
Commit2Change will host its 3rd Annual Fundraiser to raise funds to support the organization's critical work for girl's education in India. This year's event will include a silent auction and entertainment by LA-based acclaimed singer Sonia Rao
WHO:
Slated to attend are TV and film actress Sejal Shah, most recently co-starring as the recurring character Tejal, in NBC's 2013 drama series "Do No Harm"; Joya Dass, TV anchor and co-founder of Womens networking initiative "LadyDrinks"; Carly Cushnie, co-founder and one-half of the design duo "CUSHNIE ET OCHS"; Kiran Rai, Founder and Creative Director of "Sir Alistair Rai.com"; Ritu Ahuja; Relina Bulchandani, Global Lead Connected Real Estate at "Cisco"; Ashlene Nand, Founder of "Lacquerous"; Megan Cayten, CEO, Co-founder of Catrinka; Raashi Chary; Lisa Coar, Vice President at "Goldman Sachs"; Sejal Gehani, co-founder of "Commit2Change"; Bindu Lokre; Shobha Tummala, Founder and CEO of "Shobha"; Rohit Pursram, CEO of " Activation Media"; Sapna Werner, Principal at "ghSMART"; Sumana Setty, co-founder of Commit2Change and "Catrinka".
Music by Raaz Entertainment. Desserts by The CAKE DESIGNER.
WHERE:
Metaphor
Restaurant of the acclaimed Iron Chef contestant Jehangir Mehta
130 Duane St
New York, NY
ABOUT:
We've all heard about India's girl crisis. According to the UNICEF, India is the worst place to be born a girl. Commit2Change's mission to provide opportunity and hope for girls who otherwise wouldn't stand a fighting chance against illness, medical neglect, malnourishment, human trafficking and sexual violence. Commit2Change creates systematic and cultural change by focusing on educating abandoned and impoverished girls in India with programming to support the girl beyond her youth. We work with carefully selected local partners who rescue and rehabilitate at-risk girls and invest in initiatives to give them a chance. For more information or to donate, visit http://www.commit2change.org.