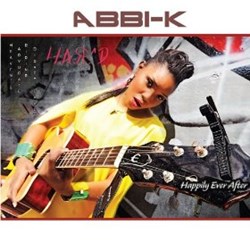 New York, NY (PRWEB) November 06, 2013
The singer and songwriter of reggae, Caribbean, and pop music known as Abbi-K has released her latest single, "Happily Ever After." The track has been released on the popular Stile Records music label. A groovy, mellow reggae song with pop sensibilities performed by some of the genre's best musicians, "Happily Ever After" showcases Abbi-K as one of today's most inspirational and talented reggae singers anywhere.
Abbi-K is the professional name of singer and songwriter Abigail Kichelle Herbert from the tropical Caribbean island of St. Thomas. She cites as main artistic influences the likes of such artists as John Legend, Lauryn Hill and Israel Houghton, and intuitively, her own music sounds not unlike an amalgam of these great performers. She is a musical autodidact proficient in keyboard, guitar, and percussion, in addition to her powerful, innate vocal style.
Abbi-K's music career began in a Christian music group in which she was the youngest of six girls. When her mother relocated the family to New York City, she began leading worship service at various churches and collaborating with the other main creative force behind Abbi-K, her brother, Kareem. They became music directors at a church after graduating high school and Abbi-K was soon invited to a professional music studio to be featured on gospel music records. She was signed by producer Karl Marrett to Stile Records five years later.
"Happily Ever After" represents a glimpse into Abbi-K's upcoming, much-awaited debut LP record, "H.A.R.D. (Heavens Advocates Riding Didactically)," which her official bio states, "will feature a collection of inspirational melodies that span a variety of genres."
"Happily Ever After" by Abbi-K is available online worldwide.
ARTIST CONTACT INFO:
eMail - stilerecords(at)aol.com
Twitter: @abbikhard