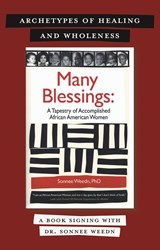 Many Blessings: A Tapestry Of Accomplished African American Women
Malibu, CA (PRWEB) November 06, 2013
Dr. Sonnee Weedn will be the guest of honor at Avalon Malibu treatment facility, Thursday November 14, at 6:00PM. The revered psychologist and author will be discussing and signing her book, "Many Blessings: A Tapestry Of Accomplished African American Women." Dr. Weedn will account the experiences of thirty contemporary African American women, whose stories demonstrate that anyone can learn to create a successful life of joy and service.
"Many Blessings: A Tapestry Of Accomplished African American Women," is the author's description of contemporary African American women who exemplify the seven archetypal energies that have allowed them to survive and thrive to the Middle Passage, slavery and to the present day.
Dr. Sonnee Weedn will be sharing her thoughts on her book with stories of some of these women. Some are famous and some are only known in their specific sphere of influence. The event will also welcome UCLA and Columbia University Law professor and civil rights attorney, Kimberle Crenshaw, who is a prominent figure in Critical Race Theory, specializing in race and gender issues. NASA Astronaut Coronel, Yvonne Cagle, M.D. will also be on hand to add to the presentation.
Dr. Sonnee Weedn is a clinical and forensic psychologist in private practice. She provides continuing education and training programs for mental health professionals. Since 2004, Dr. Weedn has provided in-depth psychological assessments of patients at local chemical dependency treatment centers. Her reports and recommendations are used in guiding individualized treatment planning and interventions designed to maximize treatment outcomes and guard against episodes of relapse. Dr. Sonnee Weedn creates and produces a wide variety of retreat programs and workshops, ranging from couples enrichment to spiritual development. She has studied with a host of leaders in behavioral and mental health care and is a highly sought after professional in her field.
The book signing will be at the Avalon Malibu treatment facility; 32420 Pacific Coast Highway Malibu, California 90265. Avalon Malibu is a place where respect, compassion, kindness and hospitality are extended to all who seek health and healing. The meeting time is 6:00PM - 9:00PM. Rsvp via email to beata(at)avalonmalibu(dot)com or call O (310) 457-9111 or cell (805) 444-4363. Hors d'oeuvres will be served and valet parking will be provided.