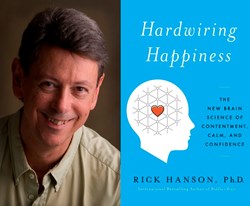 Clinical study finds we can develop lifelong happiness with simple but consistent training.
San Francisco, CA (PRWEB) November 07, 2013
Neuropsychologist Rick Hanson made a name for himself with his first book, 'Buddha's Brain: The Practical Neuroscience of Happiness, Love, and Wisdom' translated into 24 languages.
His work has been featured on the BBC, NPR, Consumer Reports Health, and U.S. News and World Report, and his articles have appeared in Tricycle Magazine, Insight Journal, and Inquiring Mind. His weekly blog also appears on Huffington Post, Psychology Today, and other major websites.
In his new book 'Hardwiring Happiness: The New Brain Science of Contentment, Calm, and Confidence' (Random House, Oct 2013) he illustrates how taking just a few extra seconds to stay with a positive experience - from the pleasure of a deep breath to a sense of calm, satisfaction, and love - can turn good moments into a great brain, full of strength, health, and happiness.
His popular phrase "to take in the good" describes the deliberate internalization of positive experience into implicit memory. This method, based on self-directed neuroplasticity resets the brain to its natural resting state, which refuels and repairs the body, makes us feel peaceful, happy, and loved, and helps us act with confidence and compassion.
In a recent study with collaborators from the University of California, preliminary findings indicate that people who took the course experienced significantly less anxiety and depression, and significantly greater self-control, savoring, love, gratitude, compassion, contentment, joy, self-compassion, and happiness.
'Hardwiring Happiness' has been endorsed Thich Nhat Hanh, Sara Gottfried, Stephen Porges, Dan Siegel, Kristen Neff, Paul Gilbert, Harville Hendrix, Geneen Roth, Sharon Salzberg and many, many others.
Inspiring Promotions is a boutique public relations agency dedicated to promoting some of today's best authors and speakers. Visit http://www.inspiringpromotions/authors then contact us to schedule a media appearance at 415-250-1380 or email suzanna(at)inspiringpromotions(dot)com.