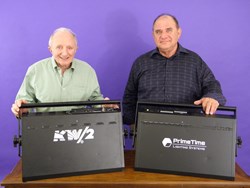 "It's a branding challenge for us and an incredible testimonial to the durability and long life of our products," explained Harn as he described customer loyalty to both KW/2 and PrimeTime light fixtures.
(PRWEB) November 06, 2013
PrimeTime Lighting Systems, manufacturer of LED and fluorescent lighting systems for broadcast studios and videoconferencing, acquired this year by Glen and Cynthia Harn, maintains the core values set by the original owner, Gus Hutchison, legendary racecar driver and engineer. Hutchison originally planned to retire, but agreed to stay part-time as Chief Engineer and Director of Product Development.
Hutchison originally operated the company in 1975 as Solar Kinetics and developed lights under the KW/2 brand name. The company evolved to PrimeTime Lighting Systems in 1995 and Hutchison changed the name of the light fixtures from KW/2 to PrimeTime Lighting Systems in 2010 to better describe the integrated product line of LED and fluorescent luminaries. PrimeTime Lighting Systems fixtures include the same technology as the former KW2 luminaries while both brands remain a well-known essential in the broadcast studio industry because of Hutchison's highly engineered design of superior performance, quality U.S. manufacturing and durable components.
Harn discovered this fall that some industry customers are extremely loyal to their KW/2 fixtures, but were not aware that PrimeTime and KW/2 are the same product. "It's a branding challenge for us and an incredible testimonial to the durability and long life of our products when we discovered that engineers and lighting designers love our luminaries, but were unaware of the brand name evolution," explained Harn.
"I'm thrilled to announce that Gus Hutchison has agreed to continue working with PrimeTime Lighting Systems. We are grateful for his vast depth of knowledge. Considered an industry visionary, Hutchison designs innovative and cooler lighting products. KW/2 PrimeTime lights are heat-free on talent, save energy, lower power bills, and provide a long lasting light source," explains Glen Harn. "In fact, we are about to launch a unique new LED light that Gus designed and another that we collaborated on this summer," added Harn. Hutchison and Harn have three additional luminaries in development.
"PrimeTime Lighting products have met the demands of discriminating studio lighting designers for over eighteen years with a comprehensive portfolio of cool, energy saving, image enhancing studio and video fluorescent and LED lighting instruments and will continue to be branded as PrimeTime Lighting Systems," said Harn.
About PrimeTime Lighting Systems, Inc.
Known for high performance, durability and quality, PrimeTime Lighting Systems, Inc. manufactures broadcast lighting systems, videoconference light fixtures, and LED and fluorescent studio lighting to the broadcast industry. PrimeTime's U.S. fabricated products illuminate broadcast and cable news sets, videoconference facilities, worship sanctuaries, religious broadcasting studios, production studios, city council chambers and eLearning classrooms throughout the United States and some foreign countries.