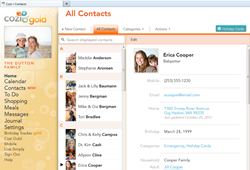 "My family uses the Cozi calendar so it's easy to see everyone's schedule, but each one of us has a different address book. It is SO nice to have one place for all the important numbers we need to share!" -Jenni Hogan
Seattle, WA (PRWEB) November 06, 2013
Parents might call this a Christmas miracle. Cozi, the leading family organizing app and website with more than 10 million users, announces the release of a major new feature of Cozi Family Organizer: Cozi Contacts, the only shared address book designed with the needs of families in mind.
An Address Book is the #1 requested new feature in Cozi. Virtually every mobile phone has a contact list, yet 80 percent of families who use Cozi still expressed interested in having an address book in Cozi. It turns out that important numbers are scattered throughout individual devices and desk drawers, so Dad might not have quick access to the pediatrician's number, and it's harder than it should be to pull together emergency contact numbers and holiday card addresses.
Behold Cozi Contacts, the newest addition to Cozi Gold, the premium version of Cozi. The contacts that families actually use day in and day out - emergency numbers, babysitters, playdate buddies, doctors, dentists, neighbors, the vet - are now all in one place, accessible from any device, by any family member.
"My family uses the Cozi calendar so it's easy to see everyone's schedule, but each one of us has a different address book," explains Jenni Hogan, a busy working mom in Seattle. "It is SO nice to have one place for all the important numbers we need to share!"
Cozi Contacts will do double-duty this holiday season by streamlining the hectic holiday card process. According to an October 2013 survey of over 3,500 Cozi families:
· Nearly all are sending holiday cards this year (only 5% say they are not)
· Three-quarters admit it's challenging to get cards in the mail before Christmas
· 10 percent are thinking about giving up this holiday tradition altogether
· Holiday cards were voted the most chore-like of any holiday ritual (even more so than hanging Christmas lights!)
Cozi Contacts will make parents more efficient than a room full of elves by getting all the addresses in one place, tracking which addresses are up to date, and alleviating the time-consuming task of hand-addressing envelopes or printing address labels.
Cozi Introduces the Get It Done! Holiday Card Guarantee. The company is even guaranteeing that Cozi Contacts is the better way to manage holiday card addresses: "Use Cozi Contacts and if you don't get your cards in the mail before Christmas Day, Cozi will help buy you Happy New Year cards to mail instead." To go above and beyond for their premium subscribers, Cozi will even send families their holiday card address list in a label-ready file to print.
Cozi may not be able to come over and hang those lights, but Cozi Contacts can give parents exactly what they wish for this holiday season: the feeling of being on top of it all.
More about Contacts:
· Families currently keep important addresses scattered across paper address books and lists (45%), in computer files (43%), in computer-based accounts (27%), and in their phones (49%).
· One-third of families don't currently keep an updated emergency contact list, but would like to.
More about Holiday Cards:
· 70 percent of families start the holiday card production process by Thanksgiving; 25 percent wait until the first week of Dec or later to start thinking about sending cards.
· 31 percent of families store addresses primarily in a paper address book.
· 60 percent of families address the holiday card by hand; 24 percent print out address labels.
· Nearly 70 percent of families send picture cards.
· 32 percent include a holiday letter or personal note of some kind inside the envelope.
Methodology: In March 2013 and October 2013, Cozi posted online surveys, with 977 and 3,634 families responding respectively.
About Cozi:
Cozi is the family technology company dedicated to simplifying everyday life, easing communication and connecting busy families. Cozi's signature product, Cozi Family Organizer, has more than 10 million users and is the leading solution for busy families to manage schedules and activities, track grocery, shopping and to do lists, plan meals and store recipes, share contacts, organize household chores and keep family memories. Cozi Family Organizer is accessible across multiple platforms—from any PC or Mac at cozi.com or via mobile and tablet apps for iOS (iPhone, iPad, iPod Touch) and Android (including Kindle Fire and NOOK tablets). Cozi Family Organizer is free to use, or families can upgrade to Cozi Gold, the ad-free version with premium productivity features. Located in Seattle, WA, Cozi was founded by veterans of Microsoft and Amazon with a vision for creating technology that brings families together. The company also regularly connects on social media via Facebook, Twitter and Pinterest.