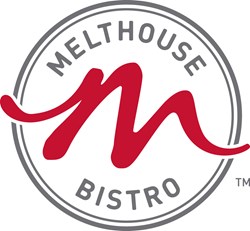 We want to keep evolving the Melthouse Bistro brand experience in a way that fits the lifestyle of our tech-savvy consumers
MILWAUKEE, WI (PRWEB) November 06, 2013
Melthouse Bistro and Tali Payments are pleased to announce a strategic partnership that will make it fun and easy for Melthouse Bistro patrons to order and pay for food and drinks. The free Tali Payment iPhone app offers an intuitive user-experience that will enable Melthouse Bistro diners to remotely place orders from their smartphone and pick it up at the restaurant for dine in or take out, at the time they designate, thus allowing them to skip the line and pick up their freshly-made gourmet grilled cheese sandwiches and salads within minutes.
"We want to keep evolving the Melthouse Bistro brand experience in a way that fits the lifestyle of our tech-savvy consumers," says Susan Davis, Co-Owner of Melthouse Bistro. "Tali Payments offers a world class, all-encompassing digital payment solution. The user experience is dazzling and the feedback that we have received to date has been overwhelmingly positive."
Setting up Tali Payments is easy. Simply download the free app, link your credit card, and away you go. "Since our inception, Tali Payments has focused on a vision of connecting consumers with their favorite restaurants and bars in a fun and easy way," said Carlton Reeves, Founder and President of Reeves Technologies, LLC, the maker of Tali Payments. "With the Tali Payment iPhone app, Milwaukee area diners never have to open or close a tab again. Just go to Melthouse Bistro, or any other restaurant where Tali Payments is accepted and your tab goes with you."
Plans are in work at Tali Payments to launch an Android and Windows app that boasts the latest features and functions as showcased in the iPhone app.
Notable Tali Payments consumer benefits include:

Pay & Go - It's never been easier to view, order, and pay for your drink or meal.
Save Time - Never wait for your bill or tab again. Never leave behind your credit card.
Gain Perks - Get the perks you want and deserve. Enjoy a better time out on the town.
Now through November 30, 2013, download the free Tali Payments iPhone app, make a pre-tax purchase of $15.00 or more at Melthouse Bistro and get a $5.00 account credit. Just use promo code MELTHOUSE when signing up on the app.
About Melthouse Bistro
Melthouse Bistro is an innovative fast-casual Milwaukee East Side restaurant that offers an ever-evolving selection of hand-crafted, gourmet grilled cheese sandwiches that are unique and appetizing. These flavor combinations feature Wisconsin cheese, thick-sliced European-style artisan breads, and fresh all-natural ingredients. We celebrate your love affair with cheese with an approachable culinary dining experience that is smart, warm and inviting. Melthouse Bistro was voted by OnMilwaukee.com readers as one of Milwaukee's Top 40 restaurants and was OnMilwaukee.com Editor's Choice for Milwaukee's Best Sandwiches in 2012. To learn more visit http://www.melthousebistro.com or call the restaurant at 414.271.MELT (6358).
About Tali Payments, (Reeves Technologies, LLC)
Tali Payments is an electronic payment service designed specifically for the restaurant industry that allows restaurant patrons to use their smartphone to view menus, place orders, and pay seamlessly and conveniently. Launched in Milwaukee, WI, Tali Payments seeks to expedite the culinary experience by removing the time lost when paying with cash or credit card. Take control of your dining experience through our fun, easy, and safe mobile payments solution. Tali Payments is a business idea that sprung out of the University of Wisconsin-Milwaukee and has won several prestigious business plan contests including the New Venture Business Plan Competition, James D. Scheinfeld Entrepreneur Award, and placed in the MillerCoors Urban Entrepreneur Business Plan Competition. Get started today by downloading the free Tali Payments iPhone app or visit us at talipayments.com.
Media Contact:
Troy Davis
Co-Owner, Melthouse Bistro
troy(dot)davis(at)melthousebistro(dot)com
608.213.7691 (US/International)
Carlton Reeves
Founder & President, Reeves Technologies, LLC
carlton(at)talipayments(dot)com
508.944.9312 (US/International)