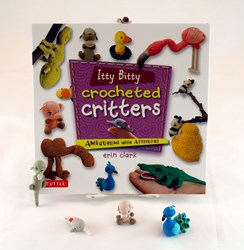 North Clarendon, VT (PRWEB) November 06, 2013
Amigurumi is the Japanese phrase that describes the trend of knitting or crocheting small stuffed animals and anthropomorphic creatures. And while the demand for Amigurumi just keeps getting bigger, these incredibly cute crocheted critters have just gotten smaller thanks to author and crochet artist Erin Clark's newest book Itty Bitty Crocheted Critters. Known for her previous book Voodoo Maggie's Adorable Amigurumi, Clark has taken her yarn craft to the micro-level and stitched together a new menagerie of mini Amigurmi.
Itty Bitty Crocheted Critters features foolproof instructions on how to make twenty of Clark's most popular mini Amigurmi characters, including:

Big Eared Fennec Fox
Slow Moving Sloth
Red Panda
Tusked Narwhal
Miniature Moose
Tiny Tapir
Itty Bitty Crocheted Critters patterns are easy to follow and also include instructions on how to display these tiny Japanese crochet creatures in their own crochet-decorated terrarium. You'll be able to make enough to satisfy yourself and provide friends and family gifts for the holidays. The book releases on November 12th and will be available for purchase in bookstores and online at Tuttle Publishing or Amazon.
Erin Clark discovered crochet at the age of six from a great grandmother, and ever since it's been her favorite crafty hobby. After falling in love with Amigurumi while surfing around the Internet looking for inspiration, she started designing patterns and selling them through various online market places, like Etsy and Artfire. Now she has three children, a wonderful husband, and a hobby that is her job.
About Tuttle Publishing
Established in 1948 by Charles Egbert Tuttle Jr. in Rutland, Vermont and Tokyo, Japan, Tuttle Publishing is the premier publisher of English language books on Asian culture. Today, Tuttle maintains an active offering of books on a wide range of topics, including Asian culture, Asian literature, Asian architecture, Eastern spirituality, gardening, cooking, martial arts, crafts, travel, health and wellness, and fine art for a worldwide audience. For more information, visit http://tuttlepublishing.com.