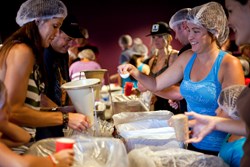 Orlando, FL (PRWEB) November 20, 2013
Stop Hunger Now and Impact Now are joining forces in the fight against hunger. More than 500 Students will package meals for the world's hungry on November 22, 2013 at Olympia High School at 2:30 P.M. Stop Hunger Now meal packaging events are a volunteer-based program that coordinates the streamlined packaging of highly nutritious dehydrated meals comprised of rice, soy, vegetables, flavoring, and 21 essential vitamins and minerals.
"The student led Impact Now has brought together students and faculty from area high schools, parents and local businesses to gather at Olympia High School to package 100,000 meals," said Wesley Collier the Director of Stop Hunger Now's Student Advisory Board and founder of Impact Now.
"Before the school year began, key members of our student body like Matt Greenwald, President of Key Club helped coordinate funding and organizing the necessary volunteers we need to package that many meals."
Around the world, more than 868 million people lack adequate food and more than 25,000 die each day from hunger-related illnesses. Stop Hunger Now operates meal packaging locations in 17 cities throughout the U.S. and international locations in South Africa and Malaysia. Four new locations are slated to open in 2013 including: Houston, Dallas/Fort Worth, and Italy. More than 250,000 volunteers from corporations, churches, schools and civic organizations have packaged Stop Hunger Now meals.
Founded in 1998, Stop Hunger Now has delivered aid and disaster relief supplies in the form of food, medical supplies, clothing, school supplies, and more to thousands of disaster victims and other hungry and vulnerable people in 65 countries.
The event will be held Friday, November 22, 2013 starting at 2:30 P.M. in the Olympia High School Cafeteria. Area students are welcome to attend the event by registering at http://events.stophungernow.org/ImpactNow Olympia High School students have participated in Stop Hunger Now events before including the Million Meals Challenge in November 2012 and a demonstration event in May 2013.
"What we want everyone to know is that hunger is solvable and is the common thread among the world's most challenging issues. When hunger is targeted, you give leverage and hope to every other cause including poverty, disease, education and the welfare of women and children," said Rod Brooks, President and CEO of Stop Hunger Now.
For more information contact Christine Galenski, Community Development Director for Stop Hunger Now. She will be on site and has information about the event to share by phoning (561) 213-0462 or email at cgalenski(at)stophungernow(dot)org or contact the Student Director of the event Wesley Collier by phoning (407) 982-6159 or email him at wcollier5137(at)gmail(dot)com.
In 2013 Stop Hunger Now is celebrating its 15th anniversary its ongoing work to create a movement to end hunger. More than 100,000,000 meals have been packaged and distributed with other life-saving aid to 65 countries impacting millions of lives.
The organization is driven by a vision of a world without hunger and a mission to end hunger in our lifetime by providing food and life-saving aid to the world's most vulnerable and by creating a global commitment to mobilize the necessary resources.
In its efforts to respond to emergency needs around the world Stop Hunger Now receives and distributes significant donations of in-kind aid. These donations are large quantities of food, medicines, medical supplies and other such items as may be of use in fighting hunger and providing relief in a crisis.