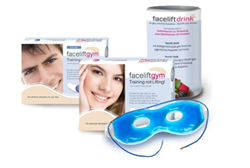 sold over 50,000 times worldwide already
(PRWEB) November 29, 2013
Facelift Gym is an effective face pad which trains the muscles to eliminate the appearance of bags and dark circles under the eyes. The pads use electrical vibrations to increase blood circulation which are pressed under the eyes to reduce the look of tired eyes. This product can be used for both men and women so the market for potential affiliates is huge as there are many people looking for a solution to this common problem.
The Facelift Gym website is built to convert with its clean design, informative content, great customer testimonials and helpful videos. It has been sold over 50,000 times worldwide already.
The risk free purchase ensures customers have peace of mind; if they are not satisfied with the product they can return the item up to 14 days after purchase and receive a full refund.
Chinup Gym is another product offered by the same merchant and helps to reduce a double chin by using a non-invasive technique to target face and jaw muscles. Last year the merchant received great PR in both France and Germany which is great news for affiliates looking to target the French and German market. This is also a successful product in the UK, Ireland and the US too. Facelift Gym has been trading since 2008 and since the launch on to the market it has defined itself as a reputable merchant in this niche.
For affiliates looking to promote the product on the MoreNiche network they can expect a dedicated affiliate manager and support like no other. The unique support offered by MoreNiche really sets the network apart from others in the industry. Affiliates receive step-by-step guidance on how to get set up, how to improve conversions and how to drive more traffic to their website resulting in more sales.
MoreNiche is part of the Twist Digital group so affiliates, affiliate managers and merchants alike can join the community at the Twist Forum to release updates, chat about current trends and support each other.