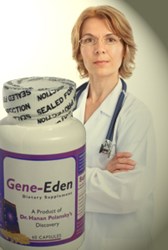 EBV plus an environmental factor, or another infection by a different virus or bacteria, equals disease. - polyDNA
Rochester, NY (PRWEB) November 08, 2013
The Epstein Barr Virus establishes a latent infection in its host that lasts for life. When the immune system weakens, the virus goes on the attack, and causes harmful symptoms. Many types of infections, including viral and bacterial infections, weaken the immune system. Those infections help the lurking EBV to reactivate and cause disease (1).
Normally, when in the latent state, EBV causes no symptoms or very mild symptoms. There is a delicate balance between the immune system and the virus. "However, certain factors cause this evolutionary-designed, benign relationship to fault (1)."
"The delicate balance between latency and reactivation is designed by evolution. In a normal host, experiencing the normal interaction with the virus, the process is tuned to a long-term relationship that does not cause undue harm. However, if environmental factors upset this balance, or if the host for whatever reason is immunocompromised, the virus may inadvertently cause disease (1)." Some of these environmental factors include "emotional stress, fever, UV exposure, hormonal changes, (and) dental surgery…. (1)."
In other words, the EBV plus an environmental factor, or another infection by a different virus or bacteria, equals disease.
As researchers from the Norwegian Institute of Public Health wrote, "In the case of EBV, the latent virus harbored in B-cells can be reactivated in vitro (in the lab) by stimulating B-cell receptors, suggesting that reactivation in vivo (in real life) may occur when the infected B-cell responds to unrelated infections. The point may help explain why reactivation of EBV occasionally appears as a secondary infection (1)." In other words, individuals infected with EBV should take care to not get infected with other viruses or bacteria. However, this is extremely hard since most people are already infected with EBV.
The CDC says on its website in a page last updated on May 16, 2006 that "EBV, is a member of the herpesvirus family and one of the most common human viruses. The virus occurs worldwide, and most people become infected with EBV sometime during their lives. In the United States, as many as 95% of adults between 35 and 40 years of age have been infected (2)."
polyDNA recommends helping the immune system to target latent viruses with Gene-Eden-VIR. This natural remedy was proven in a clinical study to reduce symptoms associated with latent, EBV infections (3). A recent post marketing clinical study published in the peer reviewed, medical journal Pharmacology & Pharmacy, in a special edition on Advances in Antiviral Drugs on August 12, 2013 showed that Gene-Eden-VIR is safe and effective (3).
Each ingredient of Gene-Eden-VIR was chosen through a scientific approach. Scientists scanned thousands of scientific and medical papers published in various medical and scientific journals around the world to identify the safest, most effective natural ingredients that target the latent form of EBV (3).
To learn more about Gene-Eden-VIR and the latent Epstein Barr Virus, visit http://gene-eden-kill-virus.com/EBV.php. All orders of Gene-Eden-VIR are completely confidential, and no information is shared or sold to any third party. Privacy is assured.
Reference:
(1) http://www.ncbi.nlm.nih.gov/pmc/articles/PMC3809354/#!po=18.9655
(2) http://www.cdc.gov/ncidod/diseases/ebv.htm
(3) http://www.scirp.org/journal/PaperInformation.aspx?PaperID=36101
polyDNA is a biotechnology company that develops dietary supplements using the unique scientific method developed by Dr. Hanan Polansky, which is based on Computer Intuition.
In addition to his unique scientific method, Dr. Polansky published the highly acclaimed scientific discovery, called Microcompetition with Foreign DNA. The discovery explains how foreign DNA fragments, and specifically, DNA of latent viruses, cause most major diseases.
polyDNA developed Gene-Eden-VIR, an antiviral natural remedy that helps the immune system kill latent viruses.