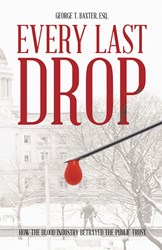 "Every Last Drop is more than one man's journey to find justice for his clients. It is a cautionary tale of the terrible price we pay when we allow complacency and greed to destroy trust." Dr. Marcus Conant, San Francisco, CA
(PRWEB) November 12, 2013
"Every Last Drop: How the Blood Industry Betrayed the Public Trust" by George T. Baxter, Esq., has been released in Commemoration of World AIDS Day
"Every Last Drop: How the Blood Industry Betrayed the Public Trust" takes us back to the early days of the AIDS epidemic – the most politicized disease in history. George Baxter recounts his six-year legal battle for an AIDS infected client against the blood industry for resisting the demands of the Centers for Disease Control to begin earlier AIDS testing before the superior court of New Jersey, in the case Snyder v. AABB, 144 N.J. 269 (1996).
Dr. Donald P. Francis, a former member of the CDC AIDS Task Force and a key witness at the trial, states in the book's foreword, "The blood industry expected the people they infected to simply go away and die quietly, which is, unfortunately, exactly what they did. Now, in a story that is as enlightening as it is frustrating, George Baxter's story provides a shrewd look into the legal brouhaha surrounding this darkest hour in American health care."
"Every Last Drop," is a David and Goliath story that centers on the universal themes of trust over money, especially in the wake of a disaster. George Baxter's personal struggle surfaces throughout this narrative, alongside the stories of patients who endured discrimination and suffered from AIDS but fought to stay alive for their exhausting trials. The book is being released for World AIDS Day in memory of their courageous fight.
George Baxter's book, "Every Last Drop," may now be ordered at Barnes & Noble.com and Amazon.com. The book is also available through the book's website: http://www.Everylastdropbook.com where the viewer can see actual trial exhibits, a gripping book trailer, newspaper clippings and more