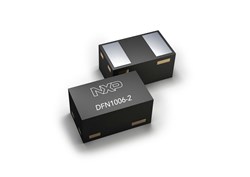 Eindhoven, Netherlands and Hamburg, Germany (PRWEB) November 06, 2013
NXP Semiconductors N.V. (NASDAQ: NXPI), the global leader for ESD (electrostatic discharge) protection and NFC solutions, today announced a new series of ESD protection devices specifically designed to protect NFC (Near Field Communication) antennas in mobile devices from transient voltages. The PESD18VF1BL and PESD24VF1BL are 18 V and 24 V bi-directional diodes with a capacitance down to 0.35 pF (typ). Housed in a small, leadless DFN1006-2 (1.0 x 0.6 x 0.48 mm, 0402 inch) package, the new ESD protection diodes are ideal for today's compact and slim smartphones.
The NFC antenna is often integrated into the battery cover or the battery itself and is connected to the NFC IC via small contacts on the phone. These contacts are an entry point for ESD strikes which are potentially hazardous to the NFC controller ICs. The new NXP protection diodes safeguard the NFC IC according to the IEC61000-4-2 industry standard. At the same time, they are designed to maintain strong signal integrity of the antenna circuit by featuring very small variation of diode capacitance versus bias voltage. This combination ensures the best possible protection of the NFC system.
Key Features of PESD18VF1BL and PESD24VF1BL

Bi-directional configuration, allowing operating voltages up to 18 V and 24 V, respectively
Very low capacitance down to 0.35 pF enabling easy design of the antenna matching circuit
Very small voltage dependency of the diode capacitance avoiding intermodulation distortion
ESD robustness of up to 10 kV according to IEC61000-4-2
Very small DFN1006-2 (0402 inch) package
Availability and Pricing
The new PESD18VF1BL in DFN1006-2 is available immediately. Indicative pricing is US $0.05 per piece in quantities of 10,000 units. The PESD24VF1BL will be available in high-volume production in Q1 2014. Two further 18 V and 24 V protection diodes in the DSN0603 (0.6 x 0.3 x 0.3 mm, 0201 inch) package will be released in Q2 2014.
Links

About NXP Semiconductors
NXP Semiconductors N.V. (NASDAQ: NXPI) creates solutions that enable secure connections for a smarter world. Building on its expertise in High Performance Mixed Signal electronics, NXP is driving innovation in the automotive, identification and mobile industries, and in application areas including wireless infrastructure, lighting, healthcare, industrial, consumer tech and computing. NXP has operations in more than 25 countries, and posted revenue of $4.36 billion in 2012. Find out more at http://www.nxp.com.
ENDS
Forward-looking Statements
This document includes forward-looking statements which include statements regarding NXP's business strategy, financial condition, results of operations and market data, as well as other statements that are not historical facts. By their nature, forward-looking statements are subject to numerous factors, risks and uncertainties that could cause actual outcomes and results to be materially different from those projected. Readers are cautioned not to place undue reliance on these forward-looking statements. Except for any ongoing obligation to disclose material information as required by the United States federal securities laws, NXP does not have any intention or obligation to publicly update or revise any forward-looking statements after NXP distributes this document, whether to reflect any future events or circumstances or otherwise. For a discussion of potential risks and uncertainties, please refer to the risk factors listed in NXP's SEC filings. Copies of NXP's SEC filings are available from the SEC website, http://www.sec.gov.