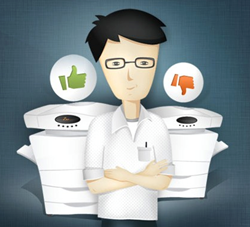 Learn how to save money on your printers.
Holbaek, Denmark (PRWEB) November 07, 2013
While the tendency for many businesses looking to improve efficiency can be to procure new printers, this normally isn't needed and can even represent a massive waste of money - especially unforgivable considering the tough business climate currently faced in both the US and Europe.
So to combat this wastage, 3manager will give webinar viewers a number of invaluable tips and tricks and this will really help them to streamline their current operations.
Additionally, the presenter will outline the business case behind 3manager's new 3viewer printer management platform, which allows IT executives or facilities managers to monitor the usage levels of their printer fleet.
While this might not sound particularly useful at first, the technologically advanced analytic tools will automatically diagnose any inefficiencies in the network and then give advice on how to mitigate these issues in a timely and cost effective manner.
But that isn't all and 3viewer will actually give each of the individual devices a life expectancy, letting companies know approximately when it will break down. This allows a more effectively scheduled procurement to avoid throwing money away and clients have found it particularly useful in arranging annual budgets.
The invitation to the webinar are for companies who are interested in improving the workplace printer network, tune in to the webinar on November 26th of November at 14.00 GMT, which will be broadcast via the popular GoToWebinar service. To register click here; http://bit.ly/1cDV1yb.
The session will be hosted by Henrik Lundsholm and Siiri Bruun and their keen knowledge of all things reprographic will ensure a host of tricks and tips that could potentially save companies thousands of dollars every year.
Best of all, those that attend will be entered for a prize draw to win one year of the firm's fantastic 3viewer service absolutely free of charge.
Henrik Lundsholm, chief technical officer and co-creator of 3viewer, said: "Here at 3manager, we're really looking forward to helping businesses from all over the UK, US and other English-speaking regions get the most from their printer fleets."
"For too long now businesses have accepted their printers are a massive money-sink without taking appropriate action to reduce their expenditure in this area, but our webinar could be the answer to this problem."
Siiri Nathalie Bruun, sales area manager at 3manager, said: "We think webinars are a fantastic way to engage with consumers and printers have long been a problem for expenditure-conscious firms, so hopefully our tips and tricks will come in useful!"
"We don't really mind who tunes in, whether it be the chief technical officer of a Fortune 500 business or a small business owner, we just want to give companies the tools they need to slash their procurement budgets."
"The money we've been able to save some of our current clients has been in excess of $10,000 and when you think of what this could be spent on in other areas of a business, it's really important people get a hold of their printer budget and get it back on track again."
NOTES TO EDITORS:

3viewer is a product owned and ran by 3manager, an innovative technology and software company
3viewer is free to printer networks with fewer than five devices
3manager is based in Denmark, but has recently begun to expand its operations into the English-speaking market
For all media enquiries, contact Siiri Nathalie Bruun at snb(at)3manager(dot)com
We are open to interviews, TV shows, or any other form of media format and will be happy to accommodate requests for appearances, comments, quotes or any other enquiries
3manager also owns 3green and 3manager Professional. Both are analytics software applications aimed at businesses looking to reduce their costs and increase efficiency
For more information, visit http://www.3viewer.com.
-----------------------