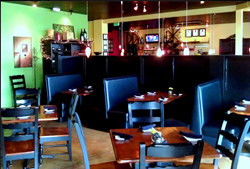 (PRWEB) November 06, 2013
Leading commercial furniture distributor Restaurant Furniture.net recently teamed up with trendy Ambrosia Bistro and Wine Bar to enhance its seating.
Ambrosia Bistro was conceived by Scott and Kara Cook to bring a feeling of "downtown" to the Spokane Valley. Located near historic Millwood, in the Argonne Village, Ambrosia boasts an inventive cuisine, great selection of spirits and Northwest wines. Ambrosia Bistro is in close proximity to Downtown, the Valley, and the Northside. There is ample parking available. They have seasonal patio dining, a full bar, both booth and table seating, and are fully handicapped accessible. Their flexible seating allows them to accommodate groups up to 45 people with advanced notice. We also offer off-site catering for groups up to 150.
Since opening in 2006, Ambrosia Bistro and Wine Bar has been the premier dining spot in the Spokane Valley, winning numerous accolades including the 2010 "Z Best of Spokane" Best New American Restaurant Award, and the 2010 Wine Spectator Award of Excellence.
Ambrosia offers lunch and dinner. Their menu ranges from Italian and Mediterranean dishes such as Chicken Picatta and Crab Ravioli to seafood and southern dishes such as Shrimp Provencale to Cajun Pasta and Southern Fried Chicken. All dishes are made with an innovative twist with unique ingredients and condiments such as pomegranate ketchup which is served with their turkey burger.
Ambrosia has an elegant, contemporary decor. They needed high quality commercial seating that would look not only look great but also blend in with the upscale décor. Premium quality and strong built furniture is also very important since they get high traffic. Restaurant Furniture.net has a reputation for being a trusted source for high quality furniture at affordable prices and was happy to team up with Ambrosia.
The owner decided to go with Restaurant Furniture.net's black Quick Ship Plain Back Single and Double Booths, 42" in height and 48 " long. The single booths sell for only $199 and the double booths sell for $331. The Quick Ship Booths which start at $185 can be delivered in 7 – 10 days are also available in wine and green, come in a standard 36" height. The booths were a natural choice for Ambrosia to complement their fashionable décor as booths add luxury, style and privacy for the patrons.
Restaurant Furniture.net is well-known for their high quality restaurant booths which come in a wide variety of styles, fabrics and colors. Booths are available in standard vinyl and numerous fabric colors. Custom booths can also be made in any size, shape, style or material the customer requests.
Browse Restaurant Furniture.net's full selection of commercial grade chairs, bar stools, table tops, table bases, booths and patio furniture at http://www.restaurantfurniture.net/t or talk to a customer service representative at (888) 409-1115.