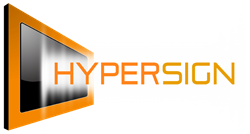 "We can't imagine not having them."- Donna Vidt, Gold Hill Elementary
Greenville, Spartanburg (PRWEB) November 19, 2013
Hypersign, the award-winning digital signage software, has been installed in 5 Fort Mill schools over the past several weeks. These schools include Fort Mill High School, Fort Mill Elementary School, Nation Ford High School, Gold Hill Elementary, and Springfield Middle School.
All in all, 19 displays and signage players were installed across the different campuses. Fort Mill High school received 6 displays and players, while Fort Mill Elementary got 2. Both Gold Hill Elementary and Springfield Middle School received 3 displays/players each. Fort Mill's District Office also wanted Hypersign, installing one display and player.
"The Hypersign install process was easy to manage. Avionex did what they said they would do and completed the project on time... Hypersign has provided a way for our staff and students to share information, promote school events, and display pictures and videos of school activities."- Brian Spittle, Director of Networking at Fort Mill Schools.
Donna Vidt, of Gold Hill Elementary, says this about Hypersign. "Hypersign has been a great addition to our school. At first we were unsure if we would be able to make the signs work, and if we could, how would they benefit us. We were provided wonderful training and the Hypersigns are very user friendly. As for benefits, we use our signs for school announcements, educational information, and to market PTA events. As a bonus, because you can personalize each sign, they also help create a friendly welcoming atmosphere. We can't imagine not having them."
The staff at Hypersign are impressed with how quickly the schools are adapting to and implementing the new technology. The schools were loading the content that they had custom made in as little as week after the displays were installed. "We strive to make Hypersign an easy to use product. You don't have to have days of training to be able to upload attractive content." - Mike Whitman VP of Hypersign Software.
The Fort Mill school district is located in Fort Mill, SC. "The mission of the Fort Mill School District, distinguished by a tradition of excellence, is to put Children First by providing a progressive and challenging education that gives all of our students, and thereby the community, the opportunity to achieve their greatest potential."
Hypersign Software is an award winning software product development company focusing on building products that improves the lives of people. The Hypersign product is known for its incredibly intuitive interface making it the perfect digital signage solution for education (K12 and higher Ed) and healthcare. One of Hypersign's premier developments is the KidGopher product. KidGopher is known for its ability to greatly improve security and efficiency making it the best child pickup system for K12 Education. KidGopher, and other Hypersign software products are available to purchase from AV Integrators throughout the US and Canada.