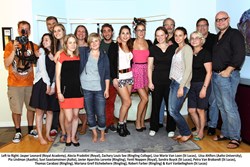 Sarasota, FL (PRWEB) November 06, 2013
Ringling College of Art and Design today announced that the college is sponsoring an international collaborative student art project at Historic Spanish Point called 'Mapping a Site: In and Out of Context'. Students and faculty from Ringling, Aalto University in Finland, Saint Lucas College of Art and Design and the Royal Academy of Antwerp, Belgium are working together in Sarasota, Florida from November 1-November 10th. The project will be publicly exhibited at Two Columns Gallery at 1947 Ringling Blvd. on Saturday, November 9th from 5 – 8 PM.
"Mapping a Site: In and Out of Context" includes faculty and students from multiple artistic disciplines including photography, fine art, motion design and graphic design. The goal of the project is to provide students the opportunity to work collectively outside of the classroom analyzing a pre-determined site from multiple cultural and artistic perspectives.
This year's site is Historic Spanish Point in Osprey, Florida. The results of the student's collective and individual responses to the site will be available to the public at the Two Columns Gallery in downtown Sarasota at 1947 Ringling Blvd. on Saturday, November 9th from 5 – 8 PM. All are welcome.
The Ringling College faculty and students who are participating in the project will be traveling to Antwerp, Belgium in March to "map" sites in that city for part two of the experience.
Project participants:
(As seen, left to right, in accompanying photograph)
Jasper Leonard (Royal Academy), Alecia Pradolini (Royal), Zachary Louis See (Ringling College), Lise Marie Van Loon (St Lucas), Liisa Ahlfors (Aalto University), Pia Lindman (Aaolto), Suvi Saastamoinen (Aalto), Javier Aparchio Lorente (Ringling), Yentl Noppen (Royal), Sandra Buyck (St Lucas), Petra Van Brabandt (St Lucas), Thomas Carabasi (Ringling), Mariana Greif Etchebehere (Ringling), Robert Farber (Ringling) & Kurt Vanbelleghem (St Lucas).
ABOUT RINGLING COLLEGE OF ART AND DESIGN
Ringling College of Art and Design is a private, not-for-profit, fully accredited college offering the Bachelors of Fine Arts degree in 13 disciplines: Advertising Design, Computer Animation, Digital Filmmaking, Fine Arts, Game Art & Design, Graphic Design Illustration, Interior Design, Motion Design, Painting, Photography & Digital Imaging, Printmaking and Sculpture, and a Bachelor of Arts degree in the Business of Art & Design. Located on Florida's Gulf Coast, the picturesque 48-acre campus now includes more than 100 buildings, and enrolls nearly 1,300 students from the United States and abroad. It is recognized as being among the best and most innovative visual arts colleges in the United States as well as a leader in the use of technology in the arts. http://www.ringling.edu.