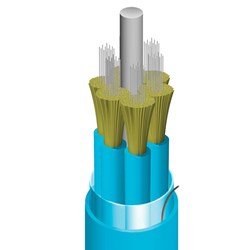 Ideal for high density infrastructures, this cable realizes significant savings in space required for fiber management.
Spartanburg, SC (PRWEB) November 11, 2013
AFL is launching the next generation of high performance sub-unitized MicroCore cables. Ideal for high density infrastructures, this cable realizes significant savings in space required for fiber management. The sub-unitized MicroCore 2.0 cable features a small diameter. Enabled by the standards compliant 2.0 mm sub-cables, this product family supports both direct termination and single fiber architectures.
"AFL's family of fiber optic cable is constructed of the highest quality materials and to exacting industry standards," commented Doug Baker, commercial manager for AFL's premise and black jacket cables. "Each sub-cable is independently qualified and is suitable for individual routing within the rack or panel architecture. This enables a flexibility of design and deployment not available in comparable high density designs. Additionally, this cable family from AFL supports field repair of complex high-density pre-terminated optical trunks when AFL's full line of field-terminable Fuse-Connect solutions are also specified."
AFL's sub-unitized MicroCore can be used in headend terminations to a fiber backbone, termination of fiber rack systems, multi-floor deployment where select fibers are used at each floor, intra-building backbones and MTP/MPO or MTP to break-out terminations. Available in 12 to 144 fibers, sub-unitized MicroCore 2.0 is compliant to RoHS/REACH directives and NFPA 262 plenum-rated.
For more information on AFL, its products and services, visit http://www.AFLglobal.com.
About AFL
AFL provides industry-leading products and services to the electric utility, broadband, communications, enterprise and OEM markets as well as the emerging markets of oil and gas, mining, nuclear, avionics, renewables and transportation. The company's diverse product portfolio includes fiber optic cable, transmission and substation accessories, outside plant equipment, connectors, fusion splicers, test equipment and training. AFL's service portfolio includes market-leading positions with the foremost communications companies supporting inside plant central office, EF&I, outside plant, enterprise and wireless areas.
Founded in 1984, AFL is proud to offer engineering expertise, exceptional products and reliable service that help our customers improve their critical and electrical infrastructure. AFL has operations in the U.S., Mexico, Canada, Europe, Asia and the South Pacific. The company is headquartered in Spartanburg, SC, and is a wholly-owned subsidiary of Fujikura Ltd. of Japan.