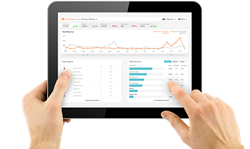 Ometria has been designed from the ground up for today's online retailers. They told us what they wanted, and we built it.
London, UK (PRWEB) November 08, 2013
(http://www.ometria.com) Ometria, a UK-based software startup, is announcing the commercial launch of their next generation ecommerce analytics platform for online retailers. Ometria offers a simple solution to a complex problem - they help fast growing, under-resourced online retailers analyse and act on their ever-growing mountains of data to make more money. Designed by retailers for retailers, Ometria delves deep into customer behaviour and product performance, extracting what they need to help boost ecommerce performance, alongside a real time overview of what's happening minute by minute in the online store.
The analytics market is polarised - with little in between the free reporting tools at one end and the consultancy heavy enterprise solutions at the other. Ometria fits squarely between - offering truly tailored ecommerce analytics to online retailers who are increasingly finding that they need more than the ubiquitous Google analytics, but don't necessarily have the resource to employ analysts and consultants. The out-of-the-box platform connects their back end data with their front end website user behaviour (something most web analytics tools are unable to do), enabling a much greater degree of accuracy as well as depth of data analysis. From tracking product performance at a very granular level, cross matching sales with browsing behaviour and stock availability, to sophisticated customer segmentation which allows for much more effective email marketing campaigns, Ometria enables the online retailer to boost revenues from day one, and to keep on optimising as the platform benefits from richer data over time.
"The feedback we have had from the ecommerce community has been very good," says CEO and co-founder Ivan Mazour. "There is a real thirst for a product like ours, and the reaction we have had is 'It's about time!'. Online retailers and ecommerce managers are under-resourced, worked off their feet, and there are a hundred things they could be doing each day to boost their growth, if only they knew which. Data can confuse them, and without insights it's useless. We give it value and make sense of it. If we can give them just five simple things that will make them more money each day, then we will have done our job."
Based in central London, Ometria is at the crux of a burgeoning tech space, and offers UK and European ecommerce companies a dedicated customer service offering and professional services to support its software solution. Its extensive ecommerce blog, ebooks and white papers have won plaudits from across the industry for their top tips and best practice advice on 'how to win at ecommerce.' Launch clients for the platform include big UK names like John Smedley, Mytights and Charlotte Tilbury, as well as international brands like Showrooms in Russia and Heli Direct in the USA.
About Ometria
Ometria was developed and founded by Ivan Mazour, James Dunford Wood, Alastair James and Djalal Lougouev in 2013, after a year of research, industry analysis and intensive planning. With a diverse team of talented technologists, mathematicians, marketers and retailers, Ometria has taken the analytical complexity of back and front-end data, and built a platform to take the head-scratching out of the etail equation.
Product Information
Ometria's dashboards enable ecommerce companies to quickly identify poorly performing funnel stages, split by segment, channel and campaign, and spot the best opportunities to increase conversion and generate additional revenue. The online retailer can analyse product performance against margin and stock, identify high converting products with low page views, and fix poorly converting products - enabling merchandisers to increase average order value and optimise their overall profitability. Ometria segments customers and calculates their CLV, allowing clients to identify their best performing channels and run highly tailored marketing campaigns to stimulate repeat sales and acquire new customers. For a 28-day trial including out-of-the-box customer segmentation, ecommerce stores are invited to sign up for the Ometria free trial offer.