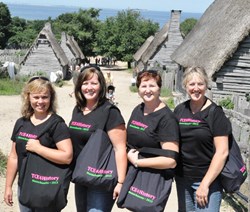 We designed our Fund for Teachers grant to enliven the historical era of our country's beginnings by exploring, experiencing then explaining the Thanksgiving story in a fresh way.
Houston, TX (PRWEB) November 26, 2013
Social Studies gets the shaft, according to second grade teachers at Tiffany Creek Elementary in Menomonie, WI -- specifically, the story surrounding our country's beginnings. Believing the proverbial "Pilgrim and Indian" story failed to impart its significance, the teaching team designed a Fund for Teachers fellowship to explore the history of Thanksgiving and create a social studies unit that is "refreshed, renewed and refocused."
"Science is hands-on, math games are fun, literature takes us to a new place, but what about social studies?" said team lead Deb Bell. "Our unit fell short of our expectations and students interest. So we designed a Fund for Teachers fellowship to enliven the historical era of our country's beginnings by exploring, experiencing and then explaining the Thanksgiving story in a fresh way."
For ten days in July, the team comprised of Bell, Angie Hellman, Janine Klaustermeier and Amy Phillips immersed themselves in the Thanksgiving story. At Plimoth Plantation, they learned from historians dressed as members of the Wampanoag tribe about life before and after the English arrived. Afterwards, they heard the colonizers' perspective in the 17th century English village and on the Mayflower II. Finally, at Plymouth Hall Museum, the teachers walked with costumed members of the Mayflower Society House to Plymouth Rock, hearing and observing living history at every turn.
"Teachers are as diverse as the learners they teach," said Bell. "And just like our students, we're continually learning. This fellowship provided an opportunity to immerse ourselves in an enriched set of experiences that changed the way we teach this facet of American History. Pushing beyond the textbook version of Thanksgiving, we use our new knowledge and experiences with students to dissolve stereotypes with facts, develop a deeper appreciation for our ancestors and introduce interactive role playing games that make history real for eight year olds."
Each week of November leading up to the holiday, second graders now learn about a different aspect of the Thanksgiving story: the Wampanoag Tribe, The Mayflower and its voyage; the First Comers (not "Pilgrims") in the new world; and the harvest celebration. The day before Thanksgiving break, students will create and serve harvest dishes.
"Our enriched Thanksgiving unit is creating and inspiring lifelong learners while addressing the new state standards in social studies," Bell said. "At the same time, we're instilling American pride and a greater understanding of democracy by learning about the beginning of our country. We are thankful for Fund for Teachers and this opportunity."
Teachers interested in designing their own Fund for Teachers fellowship may apply online at the nonprofit's web site. Applicants, eligible for up to $5,000 as an individual and $10,000 as a team, have until January 30, 2014, to submit their proposals. Recipients are notified in April.
Fund for Teachers supports preK-12 teachers' personal and professional growth as they identify and pursue opportunities around the world that impact their practice, students and school communities. Since 2001, more than 5,500 teachers have pursued new knowledge and skills on every continent with $20 million in Fund for Teachers grants.