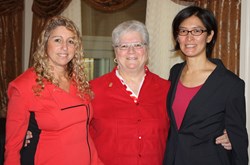 Middletown, N.Y. (PRWEB) November 06, 2013
ColumbiaDoctors of the Hudson Valley sponsored the American Heart Association's Tri-County Go Red For Women Luncheon, held Nov. 1, at the West Hills Country Club in Middletown.
During a "Heart to Heart" education breakout session, Dr. Ainat Beniaminovitz and Dr. Judy Lin presented an insightful and lively physician/patient role play, highlighting the risks for coronary heart disease and key tips for heart health.
The event was part of American Heart Association's national "Go Red For Women" campaign, which empowers women with knowledge and tools necessary to take positive action to reduce the risk of heart disease and stroke. The luncheon included heart disease education, uplifting stories, a silent auction, heart-healthy lunch and a keynote by comedian Diana Jordan.
About ColumbiaDoctors of the Hudson Valley (CDHV):
Founded in 1979 as Ramapo Cardiologists (and later renamed Hudson Heart Associates), ColumbiaDoctors of the Hudson Valley (CDHV) provides comprehensive cardiovascular and internal medicine services, with a focus on prevention, diagnostic testing, and treatment. Its physicians and nurses, who have special expertise in women's heart health and older adults, are committed to providing exceptional and compassionate care at every step of a patient's treatment.
CDHV physicians are faculty members of the Columbia University College of Physicians & Surgeons and affiliated with New York-Presbyterian/Columbia University Medical Center, one of the nation's top academic medical centers.
# # #