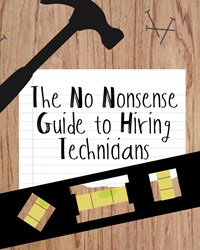 This guide helps to answer all their questions regarding where to find candidates, how to attract them, and what traits to look for when interviewing. -- Liz Simon, Hireology's account manager
Chicago, IL (PRWEB) November 06, 2013
Hireology, the leading platform for companies hiring technicians, has announced the release of their latest eBook, "The No Nonsense Guide to Hiring Technicians." Featuring information on writing technician-focused job descriptions, sourcing candidates, and catering to their expectations, the guide aims to assist franchisees and small business owners hire the most skilled and dedicated technicians.
The guide begins by detailing the behavioral traits Hireology's industrial/organizational psychology team has found to be present in high performing technicians. Moving ahead, "The No Nonsense Guide to Hiring Technicians" outlines the career expectations of most technicians, and how to best tailor the job description to fit those desires. Finally, it delves into the most effective sourcing techniques such as job boards and technical schools.
"One of the biggest challenges our customers face is sourcing qualified technicians," said Liz Simon, Hireology's account manager. "This guide helps to answer all their questions regarding where to find candidates, how to attract them, and what traits to look for when interviewing. Ultimately, it will help managers hire the best technicians without having to sacrifice time weeding through the others."
To download "The No Nonsense Guide to Hiring Technicians" please click here. For more information on hiring for your small business or franchise location, please visit the Better Hiring Today blog.
About Hireology
Hireology is the leading selection management platform for distributed enterprises. Their award-winning Selection Manager™ includes everything an operator needs to manage their hiring process, including a fully-hosted career site, integrated job postings, compensation analysis, pre-hire assessments, interview guides, background checks, skills verification and more. Franchise systems, banks and financial institutions, healthcare systems, dealer networks, and other multi-site operators use Hireology's web-based platform to deliver consistent and repeatable hiring decisions in the field - leading to lower turnover and increased profitability per location. For more information, please visit http://www.Hireology.com.