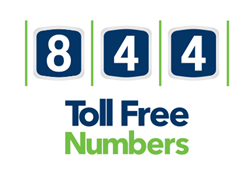 Mill Creek, WA (PRWEB) November 07, 2013
In response to the high demand of 844 toll free numbers, and to assist customers with the process of reserving and pre-ordering, Custom Toll Free is proud to announce two new available domains: 844reservations.com and 844vanitynumbers.com. These domains were created to make sure that everyone can get access to the high demand reservation system. So many companies are looking to increase their branding efforts in this economy and 844 is a sure fire way to accomplish this goal. Custom Toll Free has already accepted hundreds of reservations so time is of the essence in terms of availability.
Since a toll free prefix release only occurs approximately once every several years—or about twice per decade on average—Custom Toll Free is forecasting a very high response, making time of the essence. "This is where Custom Toll Free excels. We have the fastest available access to the number reservation system," says VP of Sales and Marketing, Christy Green.
As a leading provider of toll free numbers, Custom Toll Free has one of the fastest reservation systems available, using proven processes from the release of the last prefix, 855. By using this reservation method, Custom Toll Free was able to secure vanity toll free numbers with an excellent success rate. But even with such a high success rate, the sooner the reservation, the greater the odds. Upon successful reservation Custom Toll Free will instantly provide routing and management options as well the choice to port their newly acquired 844 toll free number to another carrier or remain with Custom Toll Free.
Businesses should know that while this is a great opportunity to acquire their desired vanity number, there is in fact a deadline on placed preorders. The new 844 toll free prefix will create new opportunities for many businesses looking to grow, develop, and expand. For more information on the advantage of 844 toll free numbers, please visit http://www.customtollfree.com.