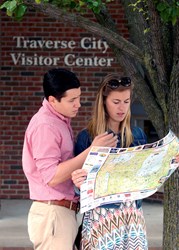 The point? Traverse City is attracting a lot of new visitors.
Traverse City, MI (PRWEB) November 08, 2013
Unlike many resort areas, this Lake Michigan vacation community has seen a strong influx of new visitors in recent years, according to a survey just released by the city's tourism authority.
Over 31 percent of the people who responded to a new survey commissioned by Traverse City Tourism said they were either visiting for the first time or had made their first visit within the past two years.
"The point?" asked TCT President Brad Van Dommelen. "Traverse City is attracting a lot of new visitors."
Traverse City Tourism commissioned the consulting firm Avenue ISR to survey people who had requested information about the area during the past 18 months, and received reports from almost 1,800 visitors and prospective visitors. They shared information about themselves, what motivates them, why they choose Traverse City, what they do when they're in the area, and how they felt about their experiences here.
Just over 90 percent of the respondents came from 10 states, well over half from outside Michigan: Illinois (11.3%), Ohio (10.3%), Indiana (7.5%), Wisconsin (4%), Texas (1.7%), Minnesota, Missouri, Pennsylvania (1.3%), and Florida (1.2%). They are likely to travel to the region by car, and 96 percent travel as couples or small family-size groups. Typically they stay two or three nights, taking in a wide variety of activities while here.
Survey respondents said their top primary reasons for choosing Traverse City were the region's wineries and breweries, the Sleeping Bear Dunes, other forms of outdoor recreation, and visiting friends and family, and 95 percent said they intended to return to Traverse City. Their reasons? The area's natural beauty, its many activities, the quality of its wineries, restaurants and shopping, and the friendliness of its people.
The survey's significance for Traverse City was underlined by another recent study conducted by Anderson Economic Group of East Lansing, confirming the role of tourism as a major driver of the local economy, generating billions in spending that supports local businesses and municipal services, creating employment for thousands of local residents, and supporting the enhanced quality of life that local residents enjoy.
According to the AEC study, in 2012 visitors made 3.3 million visitor trips to Traverse City. They spent nearly $1.2 billion in Traverse City, supporting (directly and indirectly) about 12,000 jobs across the area – about 30 percent of total employment -- and contributing about $67 million in state use and sales taxes.
On the social and cultural level, the study demonstrated that tourism contributes profoundly to the area's quality of life by supporting its large number of restaurants, wineries, microbreweries, galleries, museums, festivals and retail shops. This includes significant support for Traverse City's vibrant downtown retail and entertainment district, which is enjoyed by local residents but is supported in a significant way by visitors. With a population of approximately 15,000 residents, Traverse City could not support the diversity, variety and quality of these amenities without the economic contribution generated by tourism, said Van Dommelen.
Organized in 1981 as the Traverse City Area Convention and Visitors Bureau, Traverse City Tourism (TCT) is a nonprofit corporation that serves as the area's official destination marketing organization. Its focused mission is to stimulate economic growth by attracting convention business and developing leisure tourism.