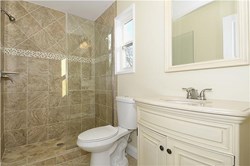 Lorton, VA (PRWEB) November 07, 2013
WISA Solutions was awarded another full bathroom remodel from a homeowner in Alexandria, Virginia. The duration of the construction lasted less than one week from start to finish.
The homeowner came into the WISA Solutions showroom for a free consultation and design ideas for her bathroom. The WISA designer then scheduled an appointment with the homeowner at the home to take measurements and go through the different design ideas. Once everything was approved, WISA proceeded and placed an order for all of the material.
Once all the material arrived at WISA's warehouse, the homeowner was notified and an installation date was scheduled.
The full bathroom remodel lasted a little under one week. The first phase in this particular bathroom remodel was the demolition phase; WISA took up all exiting tile, fixtures and furniture. Once the demolition was over, WISA's installers began the tile installation by first doing the subfloor and water proofing where the shower. The next phase was to finish up the painting, installing the vanity and start hooking up all plumbing and lighting fixtures such as shower head and toilet. The next phase of this remodel was to install the shower door and hardware for it. Once the shower door installation was finished, WISA reached their final phase which is a walk through and punch list with the homeowner. WISA took care of all questions, issues and or concerns the homeowner had.
An important tip WISA has for homeowners looking to remodel their bathroom are that the contractor should have all materials in hand before starting the project to best avoid delays. Also, make sure everything is clear with the work you want done with the contractor and how you want it done. The dollars can quickly add up if the homeowner changes their mind halfway through the remodel.
WISA Solutions business hours are from 8AM-5PM weekdays and 9AM-5PM on Saturdays and by appointment with any time outside of that.