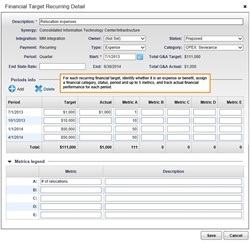 Visibility into financial performance is a critical requirement for integration success
Greenbelt, Maryland (PRWEB) November 12, 2013
Deven Software continues to evolve its stance in the M&A software industry focusing on its customizable and innovative product offerings. The EMA software platform, designed to manage all aspects of the M&A process from transaction to integration, now includes extensive financial capabilities to track actual financial performance against targets.
A PwC 2010 roundtable discussion with top corporate acquirers succinctly summarizes what many corporate buyers still view today as a keystone to a successful acquisition: "Realizing synergies requires accurate and transparent reporting. Transparent reporting requires setting granular synergy baseline targets and reporting frequently to senior management on execution progress against the baseline targets."
"There are important drivers other than target completion dates when defining synergies. One set of drivers we hear consistently about are financial targets. Upon assigning goals and metrics to a synergy, it is important to understand how the the metrics are going to be measured as the deal moves into the integration phase," explains Nick Perdikis, CEO of Deven Software. "Our EMA platform allows you to enter both recurring and one-time targets to track expense and benefit goals. Actual financial performance is tracked for each assigned period and provides much needed visibility to executives and the Board of Directors."
Comparative reports for target versus actual financial periods by synergy, team, account and owners make the visibility of the information easy and intuitive. The reports are exportable in multiple formats.
"It becomes important to be able to see if you are performing at expected levels or if you are falling behind so you can take the necessary steps," Nick states. As financial data and activity information is updated in EMA, the integration team can ensure deadlines are met or reassessed.
Deven Software believes with the high level of functionality EMA provides, along with the additive financial features, all users from M&A professionals to post-merger integration teams can find success throughout their deals.
About Deven Software LLC
Deven Software offers EMA-Transact and EMA-Integrate on a free trial basis in a secure SaaS cloud environment or as an on-premise installation. To view a video presentation of the new features in EMA v11.9, please visit our Google+ company page at http://plus.google.com/+Devensoft. For more information on Deven Software and the EMA suite of products, please visit our web site http://www.devensoft.com. Product briefings are available by contacting us at sales(at)devensoft(dot)com or 855-DEVENSOFT (855-338-3676).