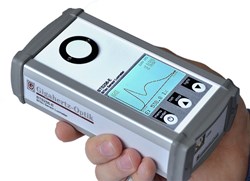 14 Different Light-Color-Spectral Measurements
Newburyport, MA (PRWEB) November 11, 2013
Gigahertz-Optik's BTS256-E Light-Color-Spectral Meter has been upgraded to include scotopic illuminance measurement, scotopic to photopic illuminance ratio, EVE Equivalent Visual Efficiency Factor per IES TM-24-13. The meter now provides fourteen different light, color and spectral measurement quantities to fully qualify solid state lighting and any other type light source.
The BTS256-E has its own on-board back-lit display for stand-alone use or it can be used with supplied software under complete PC control. Plus for system integration SDK software development kits are available for National Instruments LabView, Microsoft .NET, C/C++. The software development kits make it easy for self-progammers to embed the BTS256-E Light-Color-Spectral Meter within their own software.
Unique features like time delayed measurement, illuminance distribution mapping, fast datalogger mode and user display set-up allow the meter to be configured for specific measurement tasks.
A short video presenting the BTS256-E is available at: http://www.led-measurement.com/LED-Luxmeter-video/
This innovative yet affordable new lightmeter is ideal for lighting manufacturers just starting up in SSL and LED replacement lamps as a quality control production tool and as a lab level instrument for design work. Architectural, display, transportation, entertainment and other lighting designers and engineers, field service personnel, health and safety officers will find it a highly useable field service meter.
Gigahertz-Optik is a world class manufacturer of innovative UV-VIS-NIR optical radiation measurement instrumentation for specification critical industrial, medical and research applications.