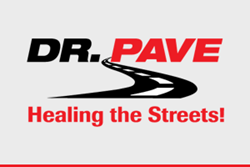 It's our mission to improve California's worsening road crisis one pothole at a time. -- Dave Dworsky, CEO, Dr. Pave
Gardena, California (PRWEB) November 07, 2013
Dr. Pave, a HEATWURX® certified commercial and residential asphalt and pothole restoration company based in Southern California, is proud to announce their recent purchase of new HEATWURX® asphalt repair equipment.
The equipment purchase includes two HEATWURX® HWX-30s, self contained units consisting of an electric infrared heater and generator. The electric infrared heater heats asphalt to 350°-375° in 20-45 minutes, powered by an ultra-quiet generator which is EPA emissions certified and Interim Tier 4 emissions compliant.
Dr. Pave uses an efficient 6-Step repair and preservation process, designed by Rich Giles, the inventor and innovator of HEATWURX®. Using the HWX-30, they heat the distressed asphalt and recycle the existing asphalt with RᵪEHAB Strips, a method that seamlessly fuses the damaged area to the existing asphalt. The repair process of one small pothole takes approximately 15 minutes, requiring few additional materials for repairs and fewer crew members compared to the traditional pothole repair process. The quick repair time reduces automobile idle time, thus decreasing the release of smog-causing exhaust as well as CO2 emissions associated with asphalt repair.
"California has been in need of a cost-effective sustainable solution to fix our roads for too long. Almost 64% of our roads here in Southern California are in terrible condition – that's over a quarter of our major roads," said Dave Dworsky, Chief Executive Officer of Dr. Pave. "It's our mission to improve California's worsening road crisis one pothole at a time."
The patented and patent-pending HEATWURX® equipment and processes, used by Dr. Pave, was chosen as an "Additionally Selected Technology" by the Technology Implementation Group (TIG) of the American Association of State Highway and Transportation Officials (AASHTO) and the United States Army Corps of Engineers (USACE) tested and evaluated the HEATWURX® equipment and recommended that the HWX-30 electric infrared heater and the HWX-30 multi-use asphalt processor be included in the US Air Force's sustainment pavement repair (SuPR) kit for in place asphalt recycling and small airfield repair.
ABOUT DR. PAVE
Dr. Pave, headquartered in Gardena, California, is the leader in electric infrared asphalt restoration in southern California. They are the number one resource for all your commercial and residential paving needs. The company was founded in 2012 by Dave Dworsky and his business partner, Mario Costa. Dr. Pave has transformed the way our roadways are maintained with the use of HEATWURX high-performance equipment and proprietary asphalt preservation process that is cost-effective, long-lasting, and eco-friendly.