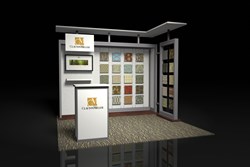 "I have a feeling we are about to do some great things and this is just the beginning..." - Lacy Price, Marketing Coordinator for CMHC.
Dalton, GA (PRWEB) November 07, 2013
Clayton Miller Hospitality Carpets (CMHC) is pleased to attend BDNY Trade Show in style this year with the newly constructed custom booth. For months, management has worked to have the state-of-the-art booth constructed in time for the November trade show in New York City at Javits Convention Center.
The booth will showcase CMHC's newest carpet collection, Monaco Nights. The 10 x 10 booth will feature all of the new 8 styles that were inspired by the luxurious nightlife of Monaco. The electric colors will be displayed on the floor of the booth and suspended and hung gallery style along the booth's walls.
"It's a new start for us," says Lacy Price, the Marketing Coordinator for CMHC, "we have new collections and a lot of new products on the horizon and having this new booth for our brand means a great deal to our company."
CMHC's booth #522 will also feature their new iPad App that recently was debuted on the Apple App Store which allows designers to chose patterns and recolor them into simulated room scenes. Designers will be able to "play" with patterns on a 32″ LED monitor that will be operated by an iPad.
Clayton Miller Hospitality Carpets specializes in custom designed carpets for guestrooms, corridors, and public spaces for the hospitality industry. They hope to extend their market share by offering new accessory products such as adhesive, cove base, and carpet pad.
"BDNY is going to be fun!" says Price. "I have a feeling we are about to do some great things and this is just the beginning…"