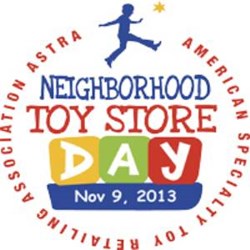 Raleigh, N.C. (PRWEB) November 07, 2013
For children, nothing compares to the enchanted feeling of shopping for toys at a local toy store. This Saturday, November 9, Stone's Education Superstore will join more than 600 independent stores across the country to celebrate the 3rd annual Neighborhood Toy Store Day. Samples of new toys and games for the upcoming holiday season will be on demo for children to play, with giveaways throughout the day. Stone's is an independent, locally owned retailer of educational toys, games, books and teacher supplies.
"When you shop at an independent toy store, you are entering a universe of play possibilities," said Kathleen McHugh, president of the American Specialty Toy Retailing Association (ASTRA). "Neighborhood Toy Store Day celebrates the role the local store plays in the community. We're highlighting the expertise your local store has in selecting just the right toy to help your child grow and learn through play."
Saturday's festivities will take place from 10 a.m. to 2 p.m., and customers will have the opportunity to play Spirograph, Aquabeads, Spot It, FunLooms, Bananagrams, the Tenzi dice game, and much more. Located at 3800 Tryon Road in Raleigh, Stone's will be open from 9 a.m. to 6 p.m.
Independent toy stores can even help families find top toys for their children during the holiday season with help from its "2013 Best Toys for Kids Award" list.
"With our expert understanding of how kids play, ASTRA members have created a list of toys that deliver the highest value, inviting imaginative discovery and encouraging creative thinking," said Carol Madison, co- owner of Stone's, a local, independent retailer. "Many of the toys you see here are not advertised on television and are typically made by small manufacturers."
Consumers can be confident that more dollars spent in local, independently-owned stores, stay in the community—25% percent more in contrast with national chains, according to the 3/50 Project. Resident business owners pour more money and energy back into the community in the form of everything from tax dollars to charity donations to participating in local initiatives through civic associations and area chambers of commerce.
Stone's Education Superstore is a local, independent retailer of educational toys, games, books and teacher supplies. As passionate advocates for the shop local movement, Stone's enables customers to find great toys while supporting a vibrant community and participate in sustainable local economic development. Bring home the perfect gift during the holiday season with a visit to Stone's Education Superstore at 3800 Tryon Road in Raleigh, or visit Stone's online and on Facebook.
Stone's thanks you for shopping local and looks forward to playing with you on Saturday, November 9. Our new 17,000 s.f. store location in Cary, N.C. on Chapel Hill Road near Trinity Road opens the day after Thanksgiving.