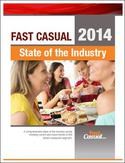 The info in the report will give readers an inside look at what is going on in the industry and how their peers are running their businesses.
Louisville, KY (PRWEB) November 08, 2013
There's been a lot of chatter among media and industry experts this year about why fast casual restaurants are thriving while other dining segments, including QSR and casual dining, are falling behind. Although qualitative stories can help form a picture, it also takes quantitative data to specifically measure what's going on in the industry.
Realizing that the two go hand-in-hand, FastCasual.com has released the 6th edition of its popular Fast Casual State of the Industry report.
The in-depth and analytical 59-page report contains the full results of an exclusive survey of nearly 400 fast casual operators, touching on topics ranging from workforce to business strategy, from food and beverage trends to sales and marketing. Questions delve deep into specifics such as:

Average employee wages
Impact of Affordable Care Act
Plans for new technologies
Menu restrictions, immigration reform, franchise law and others
Social media strategy
Almost 100 charts and graphs give context and visual sense to the data. They are available as separate jpegs to help purchasers share the data via presentation to colleagues and customers.
The report also features a 25-page supplement of observations from some the fast casual industry's best and brightest minds. They include: Frank Paci, CEO, McAlister's Deli; Nate Riggs, content marketing and social media strategist, Nate Riggs LLC; Roland Dickey, Jr, president and CEO, Dickey's Barbecue Restaurants; and Matt Andrew, chief pizza maker, Uncle Maddio's Pizza Joint.
"The info in the report will give readers an inside look at what is going on in the industry and how their peers are running their businesses," said Cherryh Butler, senior editor of FastCasual.com. "The data are invaluable for up-and-coming as well as established brands who need to know the trends and the completion—which is, in essence, all of them."
More information about the report is available here:
http://www.networldmediagroup.com/inc/sdetail/392/16457.
ABOUT FASTCASUAL.COM
Since 2003, FastCasual.com has reported on the important news, events, trends and people in the $23.5 billion fast casual restaurant industry segment. We reach a global audience of industry professionals looking to track the latest food and beverage trends, top markets for growth and hot concepts. Our site features a directory of product and service providers as well as slideshows, videos and research.
ABOUT NETWORLD MEDIA GROUP
Founded in 2000, Networld Media Group is a leading business-to-business media communications company specializing in digital media, associations and events in the mobile, self-service, digital signage, retail, food service and financial services industries. Online properties include ATMmarketplace.com, DigitalSignageToday.com, FastCasual.com, KioskMarketplace.com, MobilePaymentsToday.com, PizzaMarketplace.com, QSRweb.com, RetailCustomerExperience.com, SelfServiceWorld.com and ChurchCentral.com. The company produces executive summits in the fast casual, retail, ATM and mobile payments industries. Its custom media division develops premium content and marketing services for associations such as the ATM Industry Association.
###