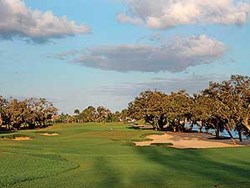 North Palm Beach Country Club is a premier golf destination.
North Palm Beach, FL (PRWEB) November 06, 2013
Be sure to tune in to watch the TV show Golf America this week, as North Palm Beach Country Club golf course is featured. In South Florida, the show will air on SportSouth and Sun Sport networks.
The North Palm Beach Country Club golf course is a Jack Nicklaus Signature links-style course and one of only two Nicklaus Signature Municipal courses in the U.S. It is unique in its rolling terrain, beautifully maintained greens, and gorgeous setting along the Intracoastal Waterway in South Florida. These features have undoubtedly placed the North Palm Beach Country Club as a premier golf destination.
Golf America is a weekly syndicated TV show, featuring the best of the best course layouts across the U.S. The show also highlights fitness tips geared toward improving your golf game and a tip of the week from varying PGA professionals. Golf America launched in 2004 and has covered over 375 courses.
North Palm Beach Country Club is one of many South Florida courses catering to the ever-increasing demand for superior golf grounds by recreational and competitive golfers who flock to the area year-round. North Palm Beach is a highly desirable place to live, offering homes in coveted neighborhoods and various country clubs.
South Florida is world-renowned for its beautiful weather, making it the ideal spot for outdoor sports such as golf, tennis, and swimming. There is something for everyone in South Florida, no matter the age or preference in activities. Just a quick look in the local paper at all the events taking place each week, ranging from casual family-friendly attractions such as kayaking in a nearby environmental area or fancy charity galas which require dressing to the nines, the flexibility in making everyone happy is why so many people are attracted to South Florida.
When anyone thinks of Florida, they typically think of sunshine, warmth, and the ocean. As if that wasn't enough to get anyone in almost any other part of the country to pack their bags, the state also offers a multitude of cultural events, theme parks, sporting events, recreational areas, dining options, shopping spots, and much, much more.
Recent statistical studies show that Florida's population is growing faster in 2013 than it has in six years. Florida is expected to surpass 20 million residents by the year 2016 and in turn become the third largest state in the country. This, of course, is having a resounding effect on the Florida real estate market, with new residents looking for the perfect place to call home. Whether looking for a quaint neighborhood which is more geared toward young families and modest living or on the other end of the spectrum, looking for something extremely refined, more private and upscale, South Florida real estate has something for everyone.
Distinct Estates sells North Palm Beach homes as well as other highly-desirable areas all over Palm Beach County, such as Palm Beach Gardens, Jupiter, Boynton Beach, and Manalapan. Distinct Estates represents both buyers and sellers who are in search of their South Florida dream home. The reputable South Florida real estate agency is composed of highly experienced Florida realtors who have received many accolades for their level of professionalism and results.