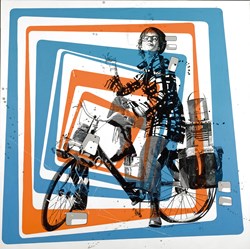 "To fool the eye is mechanical... to provoke the imagination is spiritual." - Philippe Bertho
Greenwich, CT (PRWEB) November 07, 2013
21st century Pop Master, Philippe Bertho, will embark on his sixth U.S. tour in November, 2013. Bertho, who hails from the historic and beautiful Brittany region of France, is excited to be returning to the United States where he enjoys spending time with collectors, making new friends and sightseeing the U.S. either on bike or foot. He will appear at the following Martin Lawrence Gallery locations to unveil his latest original acrylic works as well as three intriguing new hand-signed digital pigment prints on canvas.
Martin Lawrence Galleries Soho (New York City)
747 West Broadway
RSVP: 212-995-8865
Thursday, November 14th 7-9 p.m.
Martin Lawrence Galleries Boston
77 Newbury Street
RSVP: 617-369-4800
Friday, November 15th 6-8 p.m.
Martin Lawrence Galleries Dallas
Galleria Dallas
RSVP: 972-546-2988
Thursday, November 21st 6-8 p.m.
Martin Lawrence Galleries Las Vegas
The Forum Shops @ Caesars
Atlantis Fountain cul-de-sac
RSVP: 702-991-5990
Friday, November 22nd 7-9 p.m.
Martin Lawrence Galleries San Francisco
366 Geary Street
RSVP: 415-956-0345
Saturday, November 23rd 6-8 p.m.
Considered a master of the trompe l'oeil style of painting, Philippe Bertho, is known for his fresh variations on the theme of modern man's daily interaction with life. Influenced by a number of important modern masters from Norman Rockwell to Basquiat, Bertho's paintings feature figures that are self-portraits or images of his friends in exaggerated predicaments that mimic the complexities of modern life. His inclusion of recurring poses and props such as bubbles, circles and inner tubes is a contemporary blend of Pop Art.
His latest paintings and most recent graphics, Julie Glucose, Odile Lemoy and Agathe Lovignoux reference graffiti or street art and perhaps prodding viewers to question the advertising that they are bombarded with on a daily basis.
Home to the most highly respected artists, Martin Lawrence Galleries redefines the art scene by making world-famous works of art available for acquisition at exceptional value. The galleries are distinguished by works of art by Philippe Bertho, Erté, Marc Chagall, Robert Deyber, François Fressinier, Kerry Hallam, Frederick Hart, Keith Haring, Douglas Hofmann, Liudmila Kondakova, René Lalonde, Felix Mas, Takashi Murakami, Pablo Picasso, Rembrandt, Andy Warhol and many others. Over the past thirty years, they have loaned nearly 250 different artworks by 16 different artists to 32 different museums around the world. This includes loans of works by Calder, Chagall, Francis, Picasso, Warhol and many other artists to esteemed institutions such as the Whitney Museum, New York, The National Gallery of Art, Washington, D.C., the San Francisco MOMA and the Museu Picasso, Barcelona.
For more information, visit http://www.martinlawrence.com.
You can follow Martin Lawrence Galleries:
Facebook:
https://www.facebook.com/MartinLawrenceGalleries
Pinterest:
http://pinterest.com/mlgalleries
Twitter: https://twitter.com/tweetMLG