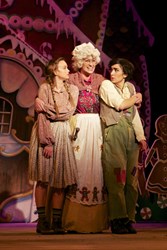 Purchase, NY (PRWEB) November 07, 2013
Purchase College-SUNY is achieving global acclaim for its Voice and Opera Studies program, with two alumni slated for leading roles at the Metropolitan Opera. Purchase Opera also features top-tier performances in a convenient local venue—with Hansel and Gretel at the Performing Arts Center on Nov. 15-17, 2013.
Alumni Starring at the Met
From Westchester County, NY, to the most exalted opera house in the country—the Purchase Opera is making its mark. In a remarkable tribute to the Conservatory of Music at Purchase College, two alumni of the Voice and Opera Studies program are appearing at the Metropolitan Opera.
Purchase alumni Christopher Bolduc, baritone, is currently singing a lead role in the American debut of a new opera Two Boys—which has received extraordinary reviews—from October 21-November 14. Brian Jagde, tenor, will be appearing at the Met in April 2014 in the Strauss opera Arabella. The Met appearances follow many other triumphs on opera stages throughout the world for these and other renowned singers, whose performance careers began at Purchase College.
In a recent interview, Christopher Bolduc reflects about his time at Purchase, "I had a wonderful teacher, Jacque Trussel, who opened my eyes in so many ways. He built the foundation of technique, explained how difficult it is even to attain a career, let alone maintain one, and taught the basics of stagecraft, acting, and audition technique. He is really an amazing educator and person."
According to Trussel, who heads the program and taught both Bolduc and Jagde, "These artists exemplify the type of student we seek at Purchase—those who not only have talent but also the desire and drive to work extremely hard and soak up all that we have to offer."
Hansel and Gretel: Captivating Entertainment for All Ages
In Westchester, Purchase Opera will be presenting the popular German classic Hansel and Gretel on the mainstage of the Purchase College Performing Arts Center (735 Anderson Hill Road, Purchase, NY), Nov. 15-17, 2013. Based on the haunting Grimms' fairytale, with music composed by Engelbert Humperdinck, the production is fully staged with lavish sets and costumes. Purchase opera students will bring their exceptional vocal and acting skills to the production, which features accompaniment by the Purchase Symphony Orchestra.
Performances of the German version of the opera (with English subtitles) will be held Friday, Nov. 15 and Saturday, Nov. 16 at 7:30 p.m., with a matinee Sunday, Nov. 17 at 2:00 p.m. On Nov. 13, 14, and 15 there will be an abbreviated version of the opera in English for schoolchildren from Westchester and Fairfield counties.
"Our approach to this opera is unique—with a dash of absurdity in the witches' role—designed to appeal to the child in all of us," says Trussel. "It's an ideal introduction to opera for young people and a perennial favorite of seasoned opera fans."
For more information on Hansel and Gretel or to order tickets, go to http://www.artscenter.org or call 914.251.6200.
World-Class Training
The Purchase College Conservatory of Music Voice and Opera Studies program is a highly selective program designed to train and mentor serious students in professional classical singing. The disciplined, integrated curriculum is taught by faculty members who have experience as successful performing artists as well as talent for the art of teaching.
Since 1998, the program has been led by Jacque Trussel, an American tenor who performed with the foremost opera companies throughout North America and Europe. Trussel is also director of the Purchase Opera.
"Our philosophy is that 'perfect practice makes perfect.' We seek undergraduate students who have talent yet a clean palette, so that we can instill solid technique and develop their artistry from the onset," says Trussel. "We also recognize that to be a good performer you must perform—so we get our students on stage by the end of freshman year."
According to Suzanne Farrin, director of the Conservatory of Music, "Our program trains the students to find their voice. They don't often come in as polished stones, but they leave as real gems—ready to shape the next generation of singing." She adds, "The Purchase Opera program is also unique because it puts young singers on stage—students don't wait in the wings."
In addition to public performances of opera scenes, art song evenings, solo recitals, and choral works, the program presents two operas a year on the mainstage—cast with talented young opera students. These productions have been acclaimed for inventiveness and a high level of professional quality, winning 8 prestigious National Opera Association – Best Opera of the Year awards.
About Purchase College–SUNY
Purchase College, part of the State University of New York (SUNY) network of 64 universities and colleges, was founded in 1967 by Governor Nelson Rockefeller. His aspirations for Purchase were to combine on one campus conservatory training in the visual and performing arts with programs in the liberal arts and sciences. Today, Purchase College–SUNY is a community of students, faculty, and friends where open-minded engagement with the creative process leads to a lifetime of intellectual growth and professional opportunity. For more information about the College, visit http://www.purchase.edu.