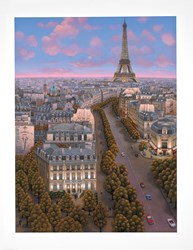 "I have been dreaming of Paris since my childhood in Russia. I fell in love with Paris at first sight; with its creative vitality, its architectural beauty... I have always felt that this city has the most romantic heart." - Liudmila Kondakova
Greenwich, CT (PRWEB) November 08, 2013
Martin Lawrence Galleries South Coast Plaza, Costa Mesa, CA and Martin Lawrence Galleries La Jolla, CA - two of ten galleries in America's Premier Network of Fine Art Galleries, are inviting clients, friends and those new to the world of art collecting to experience fine art by Liudmila Kondakova. Ms. Kondakova is world renowned for an artistic style that has been coined "Romantic Realism" because of her meticulous attention to detail, rich color schemes and incredible gift for portraying the soul of the cities she paints.
She will be at the galleries to meet collectors and to unveil her most recent original works and a newly-created digital pigment on canvas titled, The Magic Hour, a stunning aerial view of Paris with a striking image of the Eiffel Tower in the background.
Meet and Greet Events will take place at the following times:
Martin Lawrence Galleries South Coast Plaza
Friday, November 15th
7:00 – 9:00 pm
3333 Bear Street, Costa Mesa, CA
Take the Garden Bridge to the Home Store Wing
RSVP: 949-759-0134
southcoast(at)martinlawrence(dot)com
Martin Lawrence Galleries La Jolla
Saturday, November 16th
6:00 – 9:00 pm
1111 Prospect Street, La Jolla, CA
RSVP: 858-551-1122
lajolla(at)martinlawrence(dot)com
"We always seek to provide our customers with great works of art, great service and great excitement and we are certain that the new images unveiled at this event will be ones you will want to cherish for a lifetime," state Gallery Directors and Fine Art Specialists, Ken Lawrence and Brenda Klippel. Both Directors have been with Martin Lawrence Galleries for a combined total of over 30 years and can offer expert advice on starting or adding to your art collection.
Home to the most renowned and highly respected artists, Martin Lawrence Galleries redefines the art scene by making their world famous works of art available for acquisition at exceptional value. The galleries are distinguished by works of art by Philippe Bertho, Erté, Marc Chagall, Robert Deyber, François Fressinier, Kerry Hallam, Frederick Hart, Keith Haring, Douglas Hofmann, Liudmila Kondakova, René Lalonde, Felix Mas, Takashi Murakami, Pablo Picasso, Rembrandt, Andy Warhol and many others. Over the past thirty years, they have loaned nearly 250 different artworks by 16 different artists to 32 different museums around the world. This includes loans of works by Calder, Chagall, Francis, Picasso, Warhol and many other artists to esteemed institutions such as the Whitney Museum, New York, The National Gallery of Art, Washington, D.C., the San Francisco MOMA and the Museu Picasso, Barcelona.
For more information, visit http://www.martinlawrence.com.
You can follow Martin Lawrence Galleries:
Facebook:
https://www.facebook.com/MartinLawrenceGalleries
Pinterest:
http://pinterest.com/mlgalleries
Twitter:
https://twitter.com/tweetMLG