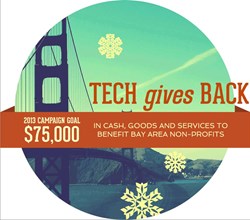 "SF Startups Team Up for Second Year of Holiday Fundraising."
San Francisco, CA (PRWEB) November 25, 2013
'Tech gives back' aims to raise $75k for bay area non-profits; SF startups team up for second year of holiday fundraising.
Today, ZeroCater, Twice, and Getaround launched a second annual Tech Gives Back charity drive, which aims to raise over $75k in donations to benefit a group of Bay Area nonprofit partners.
Last year, Tech Gives Back raised over $45k in clothing, food, and cash donations with contributions from over two dozen local startups, and this year the group aims to surpass that by $20k.
The charity drive will run for two weeks from November 18th-29th, 2013. Goodwill of San Francisco and San Francisco and Marin Food Banks will facilitate the distribution and collection of clothing donation boxes and food donation barrels, making it easy for companies to participate.
Applications to join the drive or donate cash contributions will be accepted online through Friday, December 6th, 2013 and all Bay Area startups are invited to participate in one or more of the activities listed below:
● Food Collection
Startups that choose to host a food drive should sign up to have a donation barrel delivered directly to their office. All food donations will benefit San Francisco and Marin Food Banks, in order to help ensure that families in need will not go hungry this holiday season.
● Clothing Drive
Startups that choose to host a clothing drive should sign up to have a clothing donation box delivered directly to their office. All items will be donated to Goodwill of San Francisco to fund job training and placement programs that give local people a second chance at a job and a dignified path out of poverty.
● Cash Donation
Startups that choose to contribute cash may pledge a donation to any of the following non-profit organizations: Goodwill of San Francisco, San Mateo and Marin, San Francisco and Marin Food Banks, Boys & Girls Club of San Francisco, Dress for Success San Francisco, and Food Runners.
● Volunteer Transport
Startups that choose to donate their time at a local non-profit will be provided with free Getaround vehicle rentals for volunteer transport. Whether you wish to cook a meal at a community kitchen, deliver holiday gifts to a shelter, or pay a visit to the senior center, Getaround will provide convenient and complimentary transportation. Sign up here to request a vehicle.
● Food Tasting Event
All Bay Area residents are invited to ZeroCater's Food-for-All Event, the end of campaign event taking place at SF Public Works on Tuesday, December 10th from 6-9pm. Try delicious food from ZeroCater vendors, enjoy drinks with Tech Gives Back participants, and support San Francisco and Marin Food Banks' efforts to end hunger in the community.
To date, more than 30 startups are participating in Tech Gives Back. Participants include foursquare, GitHub, Groupon, TaskRabbit, Disqus, Quantcast, Jawbone, Flixster, Pivotal Labs, Hackbright Academy, tokbox, Plug and Play Tech Center, SweatGuru, The Go Game, AnyPerk, Udemy, Softonic, Nerdwallet, Eversnap, Tog + Porter, and more.
For more information on how to sign up and join the movement, please visit http://www.techgivesback.com.
About ZeroCater
The best ideas happen over food. ZeroCater makes it simple for companies to feed their employees by sourcing meals from the best local pop-up kitchens, gourmet food trucks, restaurants, private chefs, and caterers. Founded in 2009, ZeroCater currently serves the San Francisco Bay Area. Clients include Sony, foursquare, Rackspace, Pivotal Labs, and more. ZeroCater has raised over $1.5M from investors including Y Combinator, Paul Buchheit, Keith Rabois, SV Angel, and Yuri Milner. For more information, please visit: http://www.zerocater.com.
About Twice
Twice is the first concierge-style marketplace for secondhand fashion. Sellers send in their clothing, Twice buys it upfront, and then professionally photographs the garments and lists them for sale. By leveraging this unique model, Twice offers a like-new shopping experience to buyers, with trustworthy garment descriptions, same-day shipping, free returns, and attentive customer service. Founded in 2011, the company is based in San Francisco and is backed by IA Ventures, Felicis Ventures, Lerer Ventures, SV Angel, CrunchFund, High Line Venture Partners and other top investors. For more information, please visit: http://www.liketwice.com.
About Getaround
Getaround empowers people to safely share cars by the hour, day, or week through a trusted online marketplace. By providing the Getaround Carkit, in-car technology designed in-house, as well as complete insurance up to $1,000,000 backed by Berkshire Hathaway, Getaround helps to create a seamless and fun sharing experience. Getaround is free to join, and for as little as $3/hour, members can conveniently rent nearby cars and save money on auto payments, insurance and maintenance. Owners share cars ranging from Toyotas to Teslas, offsetting the high cost of car ownership while making a positive impact on the environment. For more information, please visit: http://www.getaround.com.
###
Contact Information:
Karen Ko
hello(at)techgivesback(dot)com