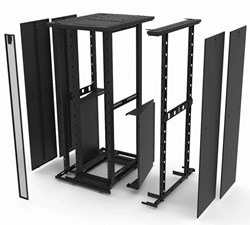 Watertown, CT (PRWEB) November 08, 2013
Siemon, a leading global network infrastructure specialist, is pleased to announce a new SidePOD and Baffle solution designed to support side-to-side ventilated active equipment and end of row (EoR) configurations in data center applications.
An optional add-on to Siemon's 48-inch deep VersaPOD (VP2) cabinets, the SidePOD creates the necessary clearance for proper airflow and cooling when using side-to-side ventilated switches such as Cisco Nexus 7018 Series Switches. The optional baffles can be mounted within the SidePOD to route cold air to the input side of the switch and route exhaust into the hot aisle. The SidePOD is also an ideal solution for expanding EoR (End of Row) configurations to increase capacity. When added to EoR cabinets, the SidePOD enables use of full size Zero-U panels which provides up to 12U of vertical patching and/or high-capacity vertical cable management to optimize EoR functionality. The SidePOD is compatible with the VP2 side panels, so the EoR cabinet side panels can readily be transitioned to the SidePOD when added.
"In today's data centers, we are seeing an increase of large side-vented chassis switches that are often deployed in end of row configurations," says Dave Valentukonis, Cabling Support Systems Manager at Siemon. "While these switches provide more room and accessibility for cable management at the front and rear of the equipment, it is critical to maintain proper airflow. Siemon's new SidePOD and Baffle solution are ideal for supporting these switch environments while still providing the cable management and patching benefits of VersaPOD's Zero-U space."
Siemon's SidePOD door features a lockable latch that can be easily opened or closed with a single finger and multiple cable access opening in the lid that accept optional brush guards to provide overhead cable access to the Zero-U space. The unique angled design of the baffles allows them to be nested in the Zero-U space between VP2 cabinets to support both side intake and venting between adjacent cabinets. Unlike most baffle solutions, Siemon's modular baffle solution allows six of the eight available Zero-U spaces (75%) to be used concurrently for patching or cable management with the baffles installed.
The reversible baffles can be installed in either orientation for proper airflow from cold to hot aisles. Siemon's new SidePOD and Baffle solution has been fully validated via Computational Fluid Dynamics (CFD) modeling for proven performance under maximum operating conditions.
For more information on Siemon's SidePOD and Baffle, visit: http://www.siemon.com/sidepod.
###
About Siemon
Established in 1903, Siemon is an industry leader specializing in the design and manufacture of high quality, high performance low voltage infrastructure solutions and services for Data Centers, LANs and Intelligent Buildings. Headquartered in Connecticut, USA, with global sales, technical and logistics expertise spanning over 100 countries, Siemon offers the most comprehensive suite of copper and optical fiber cabling systems, cabinets, racks, cable management, data center power and cooling systems and Intelligent Infrastructure Management solutions. With over 400 patents specific to structured cabling, Siemon Labs invests heavily in R&D and the development of Industry Standards, underlining the company's long-standing commitment to its customers and the industry.