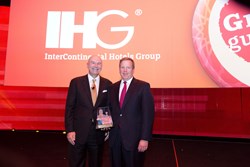 Atlanta, GA (PRWEB) November 12, 2013
IHG Owners Association, during the recent IHG Americas Investors & Leadership Conference, honored Mark Carrier, President, BF Saul Hospitality Group, as the 2013 Kemmons Wilson Service Award winner. Carrier was recognized for his leadership as an advocate on Capitol Hill and within the federal government for hotel owners and operators and the issues impacting their businesses.
"Mark represents the hospitality industry with professionalism and credibility," said Eva Ferguson, President of the IHG Owners Association. "Over the past few years, his interaction with public policy has helped provide some significant wins for the hotel industry."
Specifically, the hotel owners' association recognized Carrier's continued work on the GSA per diem rates, which helped minimize potential damage from decreased rates in many markets. He also worked to educate hotel owners on the effective use of online travel agencies as a distribution channel as a co-sponsor of the Distribution Channels Study, released in 2011. Carrier is also active in AH&LA, serving on the Governmental Affairs Committee as Vice Chairman of HotelPAC and as a member of the Strategic Advisory Committee, Funding Task Force and Executive Search Committee. He was also appointed by the GSA as an alternate to serve on the Government Travel Advisory Committee.
Carrier was Chairman of the IHG Owners Association in 2009-2010 and continues to work with the Association, currently serving as Chairman of the Crowne Plaza Committee.
IHG Owners Association
The IHG Owners Association represents the interests of owners and operators of more than 3,100 IHG® hotels worldwide. The IHG family of brands includes InterContinental® Hotels & Resorts, Crowne Plaza® Hotels and Resorts, Hotel Indigo™, Holiday Inn® Hotels and Resorts, Holiday Inn Express®, Staybridge Suites®, Candlewood Suites®, EVEN Hotels and Haulauxe. For additional information, visit http://www.owners.org or contact 770-604-5555.