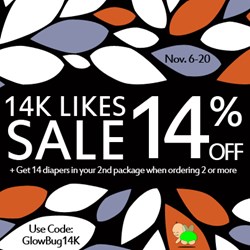 We can't wait to give back to our loyal fans. They mean the world to us.
Barrie, ON (PRWEB) November 13, 2013
Glow Bug Cloth Diapers owners Sarah and Neta are thrilled to be at 14,000 likes on Facebook. Sarah from Glow Bug says "We can't wait to give back to our loyal fans. They mean the world to us." The special event will include both a sale and photo contest starting November 6th and running for 14 days.
To keep in the theme of 14 for the sale, Glow Bug Cloth Diapers are offering 14% off all orders over $149 by using the code "glowbug14k" for the next 14 days. In addition to the percentage discount, for those who order 2 or more packages they will receive 14 diapers in their second package. Restrictions may apply. Limited to one order per household.
For the 14k Photo Contest, fans are encouraged to submit their best cloth diaper photos representing why they love cloth diapers on the Glow Bug Cloth DIapers photo contest app on their Facebook page before November 13th. Voting will be held November 13th-20th through the app. The top three pictures with the most votes will win some of 14 Glow Bug Cloth Diapers up for grabs. The first place winner will get 8 diapers, the second place will get 4 and the third place will get 2 diapers. The winners will be announced on November 21st on Glow Bug Cloth Diapers' Facebook page.
Glow Bug Cloth Diapers is based out of Barrie, Ontario and has been in business since early 2011 manufacturing and selling cloth diapers. Glow Bug Cloth Diapers us best known for offering cloth diapers that are high-quality, easy to use, fashionable and affordable. Glow Bug Cloth Diapers fit babies from newborn to potty training so you never have to buy diapers again, making them high-quality yet cheap cloth diapers.