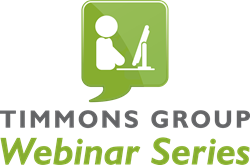 Richmond, VA (PRWEB) November 08, 2013
Timmons Group, a leader in enterprise geospatial products and services, is pleased to announce an upcoming webinar focusing on implementing your Geo-Mobile Roadmap. The webinar will take place on November 14th, from 2 p.m. to 3 p.m. EST. Join Chris Gerecke, Director of Enterprise Solutions at Timmons Group, to discuss the rising demand and expectations of mobile applications in this rapidly changing environment.
The demand for mobile applications to "think" geospatially is becoming a requirement. Your organization needs a mobile roadmap and it must be "geospatially infused". Is your organization at risk of jumping into mobile application development without understanding your users, automated deployment of mobile applications, mobile app integration with active directory, geospatial data security, the "cost" of iOS and Android upgrades, app store deployment, push notifications, and mobile device management? Are you drowning in the HTML5, iOS, Windows 8, MbaaS, PhoneGap, Android, Titanium, flat UI design, mobile device management, mobile security, ArcGIS Runtime SDKs, off-line mapping, local storage, PKI security, and responsive design buzz-word quicksand?
This webinar will break down real-world experiences in the geo-mobile landscape to frame up the top 10 considerations to implementing your mobile Roadmap. To register for the webinar, please visit http://www.timmonsgis.com.
About Timmons Group
Timmons Group is a leading provider of geospatial, information architecture and engineering services focusing on developing intuitive, enterprise geospatial web applications, highly-usable, cross-device mobile applications, and integrated, geospatially-enabled enterprise solutions. Timmons Group develops innovative solutions across multiple platforms, including web, web-based mobile/HTML5, and native mobile operating systems. Timmons Group is a privately held ENR 500 company and maintains a strong business partner relationship with Esri. Timmons Group has been a recipient of both the Esri Business Partner of the Year award and the Esri Foundation Partner of the Year award. For more information, visit http://www.timmonsgis.com.