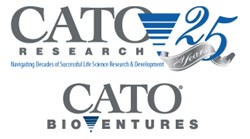 Durham, NC (PRWEB) November 07, 2013
Cato Research clinical research physician and managing director for Cato Research's Washington office, Jack Snyder, M.D., Ph.D., R.A.C., D.A.B.T., C.P.I., and Cato Research regulatory expert Elinore M. Mercer, Ph.D., R.A.C., will present in Rockville, Maryland, at the Korea-Maryland, United States of America Bio Expo, Drug Development Process and Regulatory Approaches.
Dr. Jack Snyder will present the following sessions:
Session 1: "IND Process – Nonclinical"
1. Pharmacology and Toxicity Study Design and Guidance
2. Case Studies in Pharmacology and Toxicology
Session 2: "CMC Process"
1. USP Identification Standards
2. Chemistry Section
3. Specifications for CMC / CMC
4. FDA Pertinent Guidance
Session 3: "Pharmacometrics and Clinical Trials Design"
1. Data Analysis, Pharmacometrics and Clinical Trial Design Statistical Methodology for Design
2. and Evaluation of Clinical Trials
3. Use of SAS, Population Modeling, PK/PD Modeling
4. Case Studies and Pertinent FDA Guidances
Dr. Elinore Mercer will copresent Friday, November 8th on the following:
Session 7: "Innovative Strategies for New Drug Development"
1. Current Initiatives for Repurposing Pharmaceuticals and New Development
2. Biosimilar Strategies and Current Guideline Discussion
3. Biosimilar/Follow-on Biologics; Pertinent FDA Guidance
Dr. Snyder serves as a Clinical Research Physician and managing director for Cato Research's Washington office as well as a Medical Analyst for Cato BioVentures. Dr. Snyder is a pharmacologist-toxicologist-pathologist with more than 25 years' experience in academia, government, and industry. Dr. Snyder has experience in diverse areas of business, including project management, policy development, strategic planning, regulatory and safety compliance, intellectual property, and quality control and improvement. He has conducted basic and clinical research, practiced clinical and laboratory medicine, inspected a variety of research and clinical laboratories, and edited or authored more than 120 publications.
Dr. Mercer is a Regulatory Scientist at Cato Research where she crafts regulatory strategies for biologics and drugs based on the ever-changing regulatory environment. Prior to joining Cato Research, Dr. Mercer did her Ph.D. training at the University of California, San Diego, and her post-doctoral work at the Genomics Institute of the Novartis Research Foundation. She also had stints at biotechs Genoptix and Kalypsys, and acts as a scientific analyst for the ventures arm of Cato Research, Cato BioVentures.
For more information about this event, please visit:
http://www.cato.com/events.shtml
About Cato Research
Founded in 1988 by Dr. Allen Cato and Lynda Sutton and headquartered near Research Triangle Park, North Carolina, Cato Research is a full-service, global contract research and development organization providing strategic and tactical support for clients in the pharmaceutical, biotechnology, and medical device industries. Services range from design and management of preclinical and clinical studies to submission of regulatory documents required for marketing approval. With a staff of approximately 300 and offices located in the United States, Europe, Canada, Israel, and South Africa, the Cato Research team consistently demonstrates an unsurpassed level of responsiveness, flexibility, attention to detail, and passion for bringing their clients' products to market with speed and cost-effectiveness.
For more information, please contact:
Cato Research
Phone: 919-361-2286
http://www.cato.com
# # #