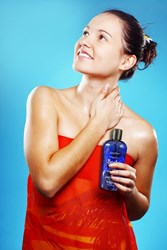 "Men and women, young and old, love our healthy natural body oil," says Kathy Heshelow, founder of Sublime Beauty®.
St. Petersburg, FL (PRWEB) November 07, 2013
Men and women like the new Daily Body Oil from Sublime Beauty®. The oil has no fragrances, no additives and no chemicals - just five pure oils and Vitamin E.
"Every purchaser of the oil gets a 6 page report about the oils, their benefits and qualities and history," says Kathy Heshelow, founder of Sublime Beauty. "We worked with a chemist to chose 5 oils that would complement each other and offer optimal benefits for the skin."
Using the body oil is ideal after dry Skin Brushing, says Heshelow. The skin is our largest organ of elimination, and Skin Brushing helps remove toxins and dead cells. After brushing and a shower, apply the body oil for healthy hydration and well-being.
The oils in the new product include Sweet Almond Oil, Sesame Oil, Aloe, Jojoba and Argan Oil plus Vitamin E. Many models and celebrities love to use oil on their bodies, have that glamorous glow to skin that exudes health.
The product could be a perfect stocking stuffer or gift as well. The company has a new Christmas gift guide on its website to help holiday shoppers.