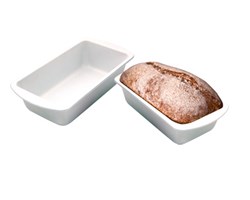 Lima, OH (PRWEB) November 07, 2013
Range Kleen's NEW! CeramaBake™ Bakeware features an innovative ceramic technology coating inside and out. Range Kleen first introduced bakeware to our line in 2002, which included open stock pieces of nonstick coated bakeware and again with petite bakeware pieces for your Toaster Oven in 2012.
In addition to the opulent beauty of the bright white innovative coating, CeramaBake™ bakeware is PTFE and PFOA FREE, offers premium release performance and is easy-to-clean as well as stain resistant. This bakeware is constructed of aluminized steel which offers durability and even heating. CeramaBake™ comes backed with a 5-Year limited household warranty.
Range Kleen has selected 10 popular pieces for our introduction which includes: 12 inch Pizza Pan, 9 x 13 inch Roaster Pan, 9 x 5 inch Loaf Pan, 8 inch Square Cake Pan, 9 inch Round Cake Pan, 11 x 17 inch Cookie Sheet, 10 x 15 inch Cookie Sheet, 10 x 14 inch Cookie Sheet, 12 Cup Muffin Pan, and the 6-Cup Jumbo Muffin Pan.
For more information regarding CeramaBake™ Innovative Ceramic Technology Bakeware, please visit our website http://www.rangekleen.com/index.php?cPath=2_922.
CeramaBake™ is a Trademark of Range Kleen Mfg., Inc.
About Range Kleen Mfg.
Range Kleen Manufacturing, Inc. is a Lima, OH based company manufacturing household products sold to major retail chains globally and has been taking care of the customer (TCOTC) since 1971. Its product divisions include Original Equipment Manufacturing Quality (OEM) replacement drip pans for ranges & stoves; Non-stick Metal Bakeware; Kitchen Decorative products specializing in exclusive licensed designs; Storage, Organization, insulated food and beverage bottles and household cleaning supplies. Range Kleen Introduced their own line of cookware- Stainless Steel and Enameled Cast Iron as well as pot racks in 2007.
Effective December 21, 2009, Range Kleen Manufacturing was pleased to announce the partnership with Berndes Cookware USA and has taken the lead of all sales, marketing and shipping of Berndes Cookware USA from their International Headquarters in Lima, Ohio.