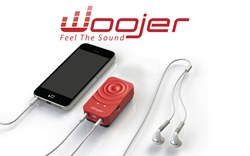 New York, NY (PRWEB) November 06, 2013
Woojer launches crowdsourcing campaign designed to bring to market a device capable of improving multimedia experiences for the deaf and hearing impaired.
Today, Woojer Ltd. announced the launch of a Kickstarter campaign to fund production of its augmented reality haptic device, which transforms the audio signals of games and any multimedia into silent, harmonic tactile sensation that can be felt throughout the body. Based on patent-pending technology, Woojer will allow the hearing impaired, as well as people who are not, to literally and physically "Feel the Sound."
http://www.kickstarter.com/projects/1382889335/woojer-feel-the-sound
"Early in the development cycle we thought it would be informative to seek feedback from those that are deprived from the sensory input we were seeking to emulate," said Dr. Neal Naimer, who is responsible for product development at Woojer, "after a few emotional encounters, it became evident that it transforms multimedia for the DHH community."
Currently, personal audio experiences are only based on hearing sound; either using speakers or headphones. As such, the rich feeling of vibes impinging the body is lost along the way. Clipped onto the clothing in one or more places along strategic meridian bodylines, the haptics of the matchbox-sized Woojer convinces the brain that the entire body is experiencing high energy acoustic sound via perceptual inference. As it is not based on sound, the benefits are even more substantial for the deaf and hearing impaired.
"I was skeptical at first," said Barak Levkovits, a 26 year old deaf engineering graduate, "until now, to actually feel video game explosions, I had to stand against a powerful speaker. With Woojer I can feel them anywhere. It's pretty awesome."
Woojer is compatible with any audio source and any headset, and it does not require downloads, software or updates – it's just plug 'n' play.
For more information about Woojer, please visit the Kickstarter page: http://www.kickstarter.com/projects/1382889335/woojer-feel-the-sound.
About Woojer Ltd.
Woojer Ltd. is a start up focused on the development and manufacturing of augmented reality haptic devices that enhance multimedia experiences by delivering tactile sensation in an ultra compact form factor.