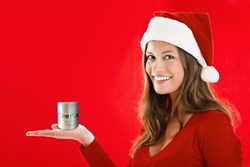 We put the Face Whisperer® line together to address anti-aging issues. - Kathy Heshelow, founder of Sublime Beauty®
St. Petersburg, FL (PRWEB) November 08, 2013
The Face Whisperer® line at Sublime Beauty® has gotten some good attention and clients love it. The Face Whisperer® day cream features Argireline® known as the natural botox® while the night cream features Matrixyl, a peptide that can double collagen production.
"We put together the Face Whisperer® line to address anti-aging issues," says Kathy Heshelow, founder of Sublime Beauty®. "Many baby-boomers want to reduce wrinkles and fine lines, help even out skin tone and make sure they are moisturizing properly. Men and women both like the creams."
A Neck and Decollete cream, made of mostly rich organic ingredients for the fragile area rounds out the line. A new Advanced Eye Gel will make its debut during the Christmas season, says Heshelow.
Clinical tests on Argireline show that daily use can reduce wrinkles by up to 40% in a month. The day cream has Argireline at 10%, the recommended maximum amount. The neck cream also includes Argireline.
"We love Matrixyl," says Heshelow, "the tested peptide that can double collagen production. Tests at Reading University earlier this year showed the great results, published in Molecular Pharmaceutics magazine. "Our night cream as well as our Collagen Peptide serum include Matrixyl. The new Eye Gel will also include the great peptide."
Consumer Newswatch TV featured the Face Whisperer products, which aired on the History and Ion Channels. NCN (Netcast News) also highlighted the line.
The Face Whisperer® products are all currently on sale, sold through Amazon. Purchasers benefit from free shipping.
Heshelow says that these products could make great Christmas gifts, too.