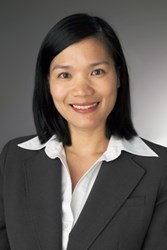 Atlanta, GA (PRWEB) November 07, 2013
Habif, Arogeti & Wynne, LLP (HA&W), the largest Georgia-headquartered tax, accounting and business advisory firm, announced today that Wendy Lu has been promoted to senior manager.
The decision to expand a business internationally is a big one that should not be taken lightly. During expansion, companies need business advisors on their side who understand the challenges they face as an international business. They need to partner with a tax professional that can help save valuable tax dollars during global expansion.
Lu is dedicated to enabling the success of international companies coming to the U.S, specifically those entering the country from China. As a native of China, Lu is familiar with the complexities and challenges of moving to a new country, not only from a business perspective, but personally as well.
Regardless of where international expansion takes you, HA&W's seasoned international team can meet you there. Today, HA&W serves clients in and out of over 40 countries and the Firm's international team speaks 23 different languages. In addition, a number of our international staff have the equivalent of the CPA in their native country, so they understand the tax complexities and international business landscape faced. With their international expertise, they can help proactively avoid common pitfalls.
Lu's international experience includes strategic planning for multi-national companies on domestic and international tax and non-tax matters regarding their inbound and outbound operations, tax incentives, tax research, and federal multi-state and international income tax compliance. She also assists clients on the analysis of transactional accounting and tax issues in due diligence. Lu works with companies across industries, with a specialization in technology and manufacturing companies.
"Wendy is passionate about the success of our clients, and dedicated to the work that she performs for them," said Yelena Epova, partner-in-charge of the International practice at HA&W. "Her positive, go-get-it attitude makes her a role model to others within HA&W and a trusted advisor to our international clients."
Lu's passion for the Chinese community extends beyond HA&W. She currently serves as a leader in the Atlanta Contemporary Chinese Academy's incentive program and she is a member of the National Association of Chinese American and the Association of Chinese Professionals. Lu received her Master's degree in Accounting from Kennesaw State University.
About Habif, Arogeti & Wynne, LLP:
Today, the pace at which work gets done is faster than ever before, and when companies manage that pace by surrounding themselves with the right people, sustainable success happens. That's why the Southeast's most recognizable businesses continue to select Habif, Arogeti & Wynne, LLP as their accounting, audit, tax and consulting firm of choice.
Companies looking to increase profitability, streamline processes that improve financial reporting, and reduce the time associated with audits, tax planning and compliance choose HA&W. Quicker answers, avoiding unforeseen pitfalls, becoming a better business for the long-run. These are just a few of the benefits clients routinely experience when working with HA&W.
Starting up, growing or getting ready to transition? Operating locally, nationally or globally? HA&W gets you where you want to be. Be Successful.
Reach out to HA&W at http://www.hawcpa.com.