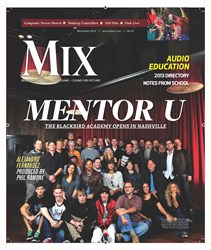 "While other schools have operated out of world-class studios, The Blackbird Academy is doing it on a level not seen before." - Tom Kenny, Editor of Mix Magazine
Nashville, TN (PRWEB) November 06, 2013
The Blackbird Academy has experienced an incredible month since launching their inaugural Studio Engineering class on September 30th. The school is honored to have their students and staff featured on the November cover of Mix Magazine alongside many legendary musicians, engineers and producers such as Martina McBride, Dan Auerbach, Nathan Chapman, Vance Powell, Dan Huff and many, many more. This cover marks the first time that Mix Magazine has ever included non-celebrities on the cover.
"Each year for our Audio Education issue, we look to feature a school or program that is doing something unique, whether that means opening up a new studio facility or introducing a new type of curriculum," says Tom Kenny, editor of Mix. "While other schools have operated out of world-class studios, The Blackbird Academy is doing it on a level not seen before. By providing six months of intensive mentor-based studio training, coupled with a foundation in audio basics, they are looking to put engineers in the field who are ready to assist from day one, and by day two they are ready to make records."
"We are happy and excited to have The Blackbird Academy on the cover of Mix Magazine in November. We love being involved with Mix Magazine which has continually had its finger on the pulse of the music business over the last 36 years. Martina and I are also appearing on Katie Couric's show Thursday, the 7th of November and we get to announce the winner of our contest and talk about The Blackbird Academy again. The support we are feeling from the industry has been amazing and The Blackbird Academy's students are getting an incredible education! Our association with great people and great companies is creating such a wonderful environment in which to teach our students, and the entire music industry will benefit from this in the future," says Institutional Director John McBride.
In addition to being included on the cover of Mix, the school is also being featured in a segment on The Katie Couric show, airing Thursday, November 7th. This will be the second time The Blackbird Academy has been featured on the show, the first being a segment about the classroom that was designed and decorated by Bob and Cortney Novogratz.
Mix Magazine is on newsstands now. Check your local listings for the Katie Couric show.
About The Blackbird Academy
The Blackbird Academy Professional School of Audio is a post-secondary, mentor-based educational facility, offering Studio Engineering & Live Sound Engineering Programs where students are taught by professional instructors and award winning guest lecturers. Each of the programs is six months in length, with four start dates per year. Maximum enrollment is 30 students per class.
The Blackbird Academy is built on the foundation of Blackbird Studio, the Nashville home to a community of engineers, producers, musicians and technical staff who over the years have taken the art of audio recording to new heights. Blackbird Studio, under the ownership/leadership of John and Martina McBride, has become the leading recording studio in the country. John's love for Audio and Education led him to create The Blackbird Academy in 2013.
The principles and beliefs that guide the Academy's programs are simple: Challenge and educate students by presenting them with real life scenarios that an engineer/producer would encounter on a daily basis; and train students in studios and labs that are professionally designed for engineers to hone their craft.
###